Lush Cosmetics is adding vegan color (although they spell it "colour") cosmetics to its line of skincare, haircare, bath and shower items. The new products – Colour Supplements, Charlotte Island Body Tint and solid facial serums – will be available starting today!
Last week – because I have friends in high places? — I went to a Tweetup at Lush's Union Square outpost to preview said items…
Everything I brought home was vegan. (Lush says 74% of its products are vegan…) And my prior experience with vegan items, as you may know, is limited to a series of holiday baking posts I did for the Huffington Post in 2008…which I *believe* angered more individuals in the vegan community than I intended or expected. My point? I still don't know much about veganism — as those commenters will be happy to point out, I'm sure — other than I've never used so much flax seed in my entire life. But…I admit I was mildly intrigued by the concept of vegan makeup after one of the Lush PR chicks "suggested" I tweet, "The same oil ruining the Gulf is found in most makeup! @LUSHCosmetics is launching foundation free of this mineral oil #LUSHColourEvent."
These products were suggested to me after meeting with a Lush chick:
Full of Grace solid facial serum ($13.95) is a little pink bar that you rub directly on your face and that "helps to relieve dry, cracked skin and improves elasticity, working to smooth broken capillaries and to reduce the appearance of fine lines." (…which is maybe a little ironic as I've always looked a good decade younger than I actually am…although perhaps this will put me in good stead in my 50s when I finally look like I've cracked 30?)
Saving Face solid facial serum (also $13.95) is a comparable product for oilier skin.
Paradise Regained is one of Lush's moisturizers – the line also includes Skin Drink, Imperialis, Gorgeous and Celestial. Paradise Regained is supposed to help protect skin from the signs of aging. (Again…hmm…I never told my Lush lady that I was afraid of fine lines…but I suppose it can't hurt to prevent them? Even with my eternal youthful glow?)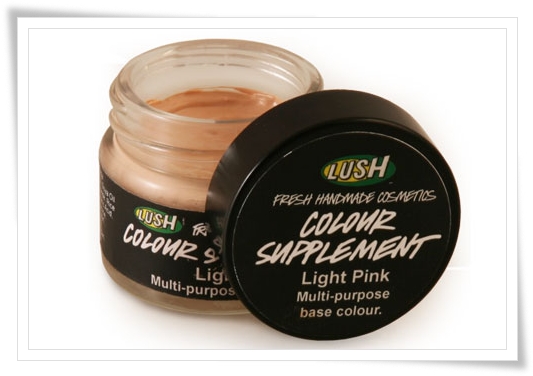 From there, I was matched up with a Lush makeup artist and had to make a joke about how pale I am (a clear defense mechanism?). She gave me both Light Pink and Light Yellow Colour Supplements ($13.95 each) and recommended I mix them together to match my pallid skin tone.
The Colour Supplements are made with soya and rice bran oils and fresh rose petal infusion. The soya is supposed to "deeply moisturize and brighten skin" while the rose petal infusion helps skin "stay nourished and calm." According to Lush, you can use them as cover-up, tinted moisturizer or foundation.
So…get thee to Lush location or online ASAP and you, too, can experience vegan body tint, facial moisturizer and multi-purpose base color. (Although I think my favorite Lush product is still the Bath Bomb…)
Disclosure: All products were provided for review. No monetary compensation was received for this review. All opinions belong to the author.