Atkins was never just a "steak and eggs" diet. It's actually a whole-foods diet that encourages eating "good" carbohydrates such as leafy greens and other vegetables, berries and other fruits, nuts and other delicious and satisfying foods. Just as importantly, Atkins encourages followed to cut out sugar, white flour and other refined grains, high-fructose corn syrup and the like. These foods have likely added inches to their waistlines and sapped them of energy. Restricting consumption of these "bad" carbs is the key to the Atkins program, as they are most likely to trigger the highs and lows of blood sugar that produce fatigue and hunger.
Visit Atkins.com for more information about this newly evolved diet.
Find all of their  delish recipes here!  So far, this one is my fave ever. you know I'm a sucker for healthy excuses to drink alcohol: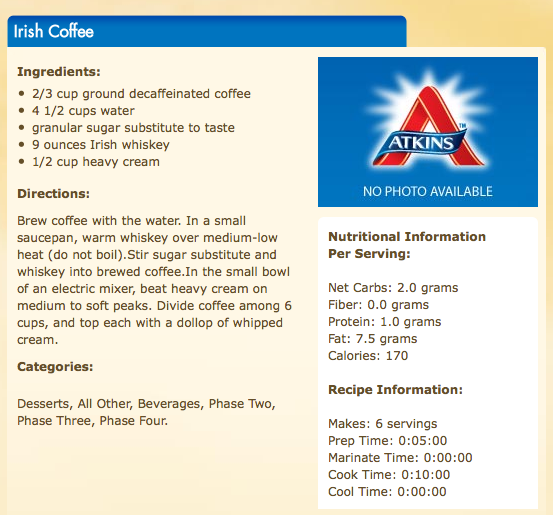 And make sure to watch out in August for the launch of Atkins' very own Pastas and Baking Mixes!  Available exclusively at Atkins.com
The new Atkins All Purpose Baking Mix can be used to create a host of delicious baked goods such as pancakes, waffles, muffins and breads. Believe it or not, you can now enjoy bread on Atkins, thanks to a unique low carb formulation! The Atkins All Purpose Baking Mix is nutritionally sound, providing high levels of protein and fiber in each serving with only 1 gram of sugar. Each serving contains 20 grams of protein, 6 grams of fiber, 150 calories and only 5 net carbs.
Atkins Penne Pasta adheres to the same high quality standard and nutritional profile of the Atkins bake mix and line of bestselling shakes and snack bars. Atkins Penne Pasta, made with enriched semolina wheat, packs a powerful protein punch, offering 11 grams of protein and 18 grams of fiber per serving. At only 140 calories per serving, Atkins Penne Pasta has only 1 gram of sugar and 19 grams of net carbs – half the carbs of regular pasta! Atkins Penne Pasta can be enjoyed during Phase 4 of the Atkins Nutritional Approach while the All Purpose Baking Mix can be employed during Phases 2, 3 and 4.
So get yourself noshing on some delish Atkins and keep yourself looking sexy all summer long!