I admit I've had sample cookie mixes from Celebration Generation for an insanely long time.
And, all along, I've felt bad that I haven't made them.
But the past few weeks haven't really been conducive to baking. And so the mixes sat in my pantry while I continued to assure the PR rep that I would make the cookies just as soon as I was home again.
And with my travels finally concluded (at least for the meantime), I had an engagement party on Saturday night and I promised the PR rep that I would finally make the cookies for said party. ("The engagement party sounds like a perfect excuse to bake Celebration Generation's mixes," she wrote. "I can't wait to hear what you and everyone else at the party thinks.")
But…I only had enough butter on hand to prepare one mix, so I decided on spiced oatmeal raisin and that chai shortbread would have to wait.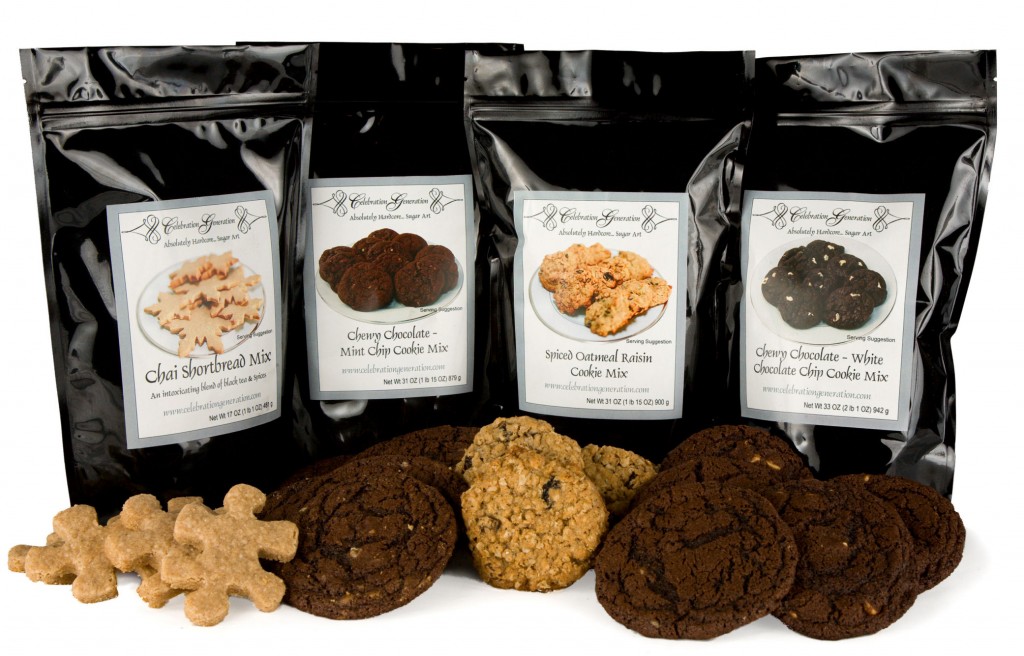 The mix itself smelled really good when I opened the bag – sort of like chai tea or something. I almost had to double-check to make sure that it was the oatmeal raisin bag I had opened and not the shortbread after all – and I admit the cookies were super-easy to pull off. All I had to do was mix butter, vanilla and eggs…and then add the mix. It doesn't get much easier than that…especially with my whizbang mixer.
And the cookies themselves were quite tasty. I'm not even sure you could tell they came from a mix. (And I've baked a lot of cookies in my time…)
The only real problem was that I felt like a bit of a fraud when guests at the party asked if I had actually baked the cookies. ("That was so nice of you! Did you really bake them?" they asked. "Um, yes…" I said, over and over.) I suppose I got by with answering, "yes," on a technicality, but I still felt a little bad that I hadn't actually made these cookies from scratch.
But, regardless, they were really well-received! The bride-to-be said they were a "BIG hit" and I even got a text message from a number I don't know saying the cookies were "AMAZING" (their caps – not mine).
According to the press kit, the Celebration Generation bakery in Plymouth, Minn. has always offered obscenely delicious goodies…and Celebration Generation's seven new gourmet cake, brownie and cookie mixes are made from all natural, purely recognizable ingredients.
The cookie mixes I have on hand retail for $12 a pop, but I say it's $12 well spent — especially based on ease of preparation and ability to discern origin.