We rounded up the cutest Mother's Day food gifts to satiate the hippest foodie moms.
by Inna Lapin
GreenBlender  
Help mom start her day off right by indulging in a delicious and healthy smoothie!  This delivery service that will send mom a smoothie box with original recipes, pre-portioned ingredients and superfoods to help her make premium smoothies quickly, and conveniently at home. Each box contains 5 different recipes and enough ingredients to make 2, 12 ounce servings each.  Plan options include week-to-week, 4-box, and 12-box subscription plans. Retails from $49.
Hamptons Lane 
Help mom discover new ways to cook. This is also the perfect way for her to try top-notch, curated artisanal ingredients and specialty kitchen tools each month – for as long as you'd like her to.  All of the boxes offered are themed (e.g., New American, Clean Eating, Sushi) and include full size ingredients along with up to seven tools. Each box retails for $47. 
Fruit of the Month Club 
The Fruit of the Month Club is a delicious gift of five pounds of fruit each month. Mom will love that they always feature two different seasonal and exotic fruits grown specifically by premium farms and growers nationwide – so she'll have her pick of what she wants. Her Mother's Day food plan will be healthy, too. Plan options include 3, 6 and 12-month clubs. Retails from $32.95.
The Tea Collection Gift Set by Kusmi Tea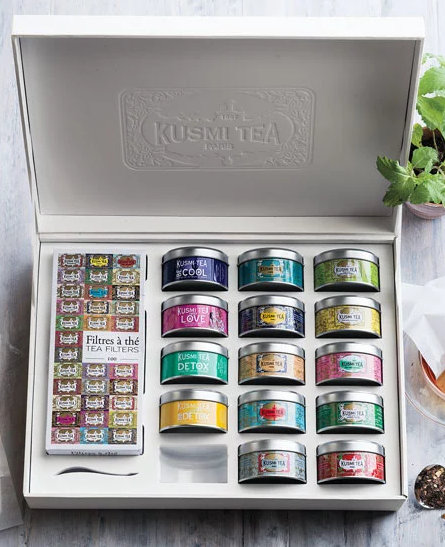 A collection of 15 loose tea miniature tins, this Gift Set features a selection of Kusmi's iconic creations with five Wellness teas (Detox, Euphoria, BB Detox, Be Cool, Sweet Love), Five Exclusive blends (Prince Vladimir, Anastasia, St. Petersburg, Kashmir Tchai, Imperial Label), and five flavored green teas (Ginger-lemon green tea, Jasmine green tea, Rose green tea, Spearmint green tea, Strawberry green tea).  Each tin contains enough for 10 cups of tea.  There's also a box of 100 paper filters and a Kusmi Tea engraved teaspoon (which measures exactly 1 tsp) included. Retails for $119. If you're wondering, yes, drinking spearmint tea for acne totally works.
Savannah Bee Company "Once Upon a Hive" Honey Fairy Tale Sampler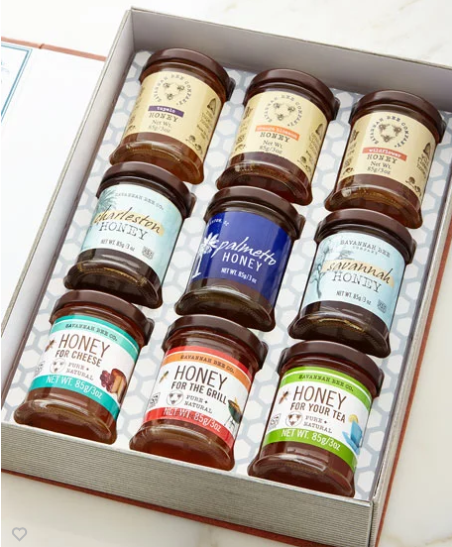 This magical Book of Honey sample set is packaged in a gorgeous fairy tale gift box any mom will adore (and she can even try this DIY honey face mask recipe). The tasting party-in-a-box includes nine jars of premium, 100% pure, KSA certified honey in scrumptious flavors, each accompanied by tasting notes: Tupelo, Orange Blossom, Wildflower, Charleston, Palmetto, Savannah, Honey for Cheese, Honey for the Grill, and Honey for Your Tea. Retails for $59.95.