New Mom Essentials: 101
Whether you're popping out a first baby or shuffling along till baby number 3 (or more) comes along, there are a bunch of things you need, but probably don't even know you need. Like, what stretch mark cream to use or what's the best collapsing stroller? Here's a good idea of what should be on your list.
1. There will be bottles all over, and you'll be too crazy to know which ones have made contact with the germy floor. It's a fact of life. You'll be the pristine, germless mom for the first few months, but by the time the kid is four or five months old he or she will be dropping (read: throwing) his or her bottles from his bouncer, seat, and stroller. This is particularly frightening when you're walking through a crowded shopping area and only have one bottle on hand. Solution? An ultraviolent nipple sanitizer! I found one for $29.99 that allows tons of nipple sanitizations on the go, and in just under a few minutes. Germs? No thanks. Available here.
2. The perfect folding stroller. It's no secret I've been a big fan of Stokke strollers for quite some time- they're elegant, functional, and have all the bells and whistles anyone could ever ask for, but the truth is, we all need an on-the-go stroller, too. Stokke's new Scoot stroller offers light, one handed folding (easy to grab and go in the trunk of your car, taxi, or even store outside your front door), and comes in a bunch of super fun colors. Can't express enough love for this one- mine goes everywhere I go. Available at Stokke.com
3. Get your old figure back in a jiffy. OK, some of us are genetically gifted and zip back to normal sizes within a few weeks of baby being born. The rest of us (me) need to work at it, eat healthy things, and keep an active schedule. For those of us in the "working at it" category, I'm obsessed with the belly cinchers offered at Hourglass Angel.  This one is shown to actually reduce belly size and get rid of real, visible inchers. Consider it a mommy corset that you wear around the house, while grocery shopping, breast feeding, whatever… It requires no real effort, and doctors have long suggested corseting to help train the uterus to more rapidly return to it's upright and original position (with its tray table also stowed). Plus, it's virtually undetected under clothes, so why not? Available here.
4. So many marks, so little time. I was recently talking with a friend about how after you give birth, there's so much on your mind that you often forget about the finer details of your OWN body- like the stretch marks that came with the glorious little baby. As a veteran mom, I can tell you Mederma's Stretch Marks Therapy might just be your savior. It's easy to use, available at all the same places you probably buy diapers anyway, and only requires 2 applications per day. Rub it on in the morning, rub it on at night, and within 12 weeks you'll notice a big difference in the color and texture of your stretch marks. Think about it this way: by the time you're starting to fit into your jeans you'll be noticing a dramatically better looking belly. Available at drugstores and retailers nationwide, $39.99.
5. Aren't these the coolest? Since baby food is almost fully transitioned out of jars and into squeezy pouches, isn't it great to know that some magical company came up with the idea to make reusable silicone tips for babies to suck on more easily? They're softer, gentler on gums, and allow little ones to control the flow of their organic apple and kale concoctions. They're called Sip'n by Choome and they're totally affordable. These are also a cute gift idea for the new mom in your office or a neighbor since they'll only set you back a few bucks. Available here.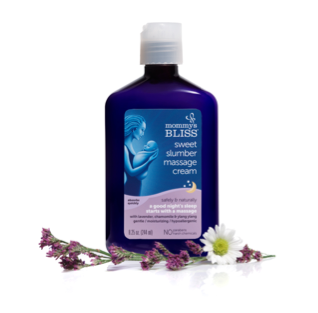 6. A little massage never hurt anyone. Whether you decide to rub your little one's feet after a warm bath or need a little of your own pampering, Mommy's Bliss massage cream smells like a dream, features relaxing lavender notes, and is safe (and paraben free!) for both mom and baby. It's great to travel with since it's a one stop moisture shop, so to speak, and good for the whole family.
7. An essentials box. Lalaalu curates cute kiddie boxes based on age- anywhere from 0 months to 7 years old. Boxes come with essentials for moms of that parenting stage, whether it's baby feeding or toddler books. I love these boxes as an easy "welcome to motherhood" gift, or just about any other affordable gifting reason since the boxes are only $40 each. I recently got one with baby food for my littlest angel, and books galore for my big guy. Available here.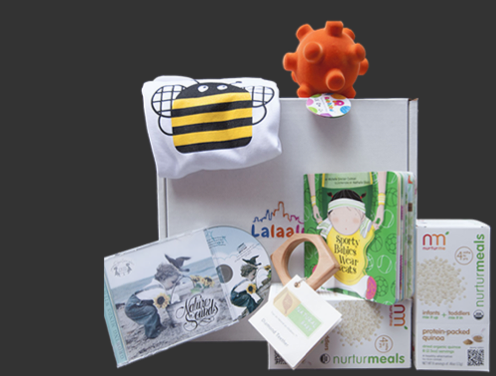 If you're feeling adventurous, try these labor inducing exercises after you're done online shopping <3