I love good wine.  Many people believe good must be expensive—but that's not always the case.
In fact, I recently found two rich warm red wines, perfect for winter sipping,  that are both under $20!
These two reds are both great to drink on their own, with hearty winter fare, or with the good for any season favorite red wine pairing–chocolate!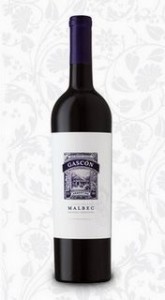 The first, Gascon's Malbec vintage 2008 from Argentina.
The color is deep violet, the bouquet is fruit-forward with a hint of spice.  The finish is silky smooth.  It is a straightforward, simple wine perfect for any Malbec lovers.
The second wine, Villa Antinori Toscana 2005 is a wonderfully blended Super Tuscan.   It is 60% Sangiovese, 20% Cab Sauvignon, 15% Merlot, and 5% Syrah.  It's a full-bodied red that as complex as it might seem, is a remarkably smooth, fruit-forward wine with a soft wonderful finish.