The perfect NYE glitter manicure is easy to apply and remove, because flashy doesn't need to be difficult.
Before we even start this glitter manicure, lets chat about how to remove it. I love a good glitter manicure as much as the next girl but they can be a total pain to get off because glitter doesn't just melt away with nail polish remover.
There are really only two super effective ways of removing glitter nail polish in my experience. First up you can use a peel off base coat! It makes it almost too easy. Most peel off base coats are going to be glue based, which totally works but isn't the longest lasting.
READ MORE: DIY Carrera Marble Nails
Your other option is to use a regular base coat and soak each nail with nail polish remover. This sounds very cringy and awful but let me ease your polish removing woes. I found this old video starring nail polish expert Deborah Lippmann placing a small section of acetone soaked cotton over a nail and letting it sit for a few seconds. After letting it sit you can just wipe of the nail polish. And it works really well! Your fingertips will get a little chilly from the acetone but it makes polish removal much easier.
And now, onto the actual manicure!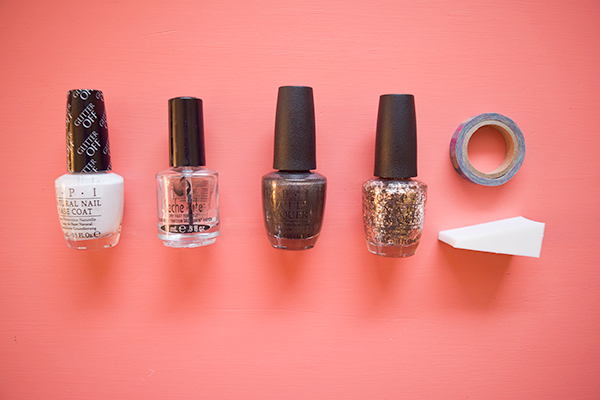 You will need a peel off base coat, a super thick top coat, the polish color you like, glitter polish, a triangle makeup sponge, and washi tape.
Start off by applying your base coat and two layers of your nail polish color.
To make this more New Years Eve themed, I went for OPI My Private Jet. It's a black based polish with rainbow micro shimmer that is super pretty and subtle. Let the polish totally dry before moving on to the next step.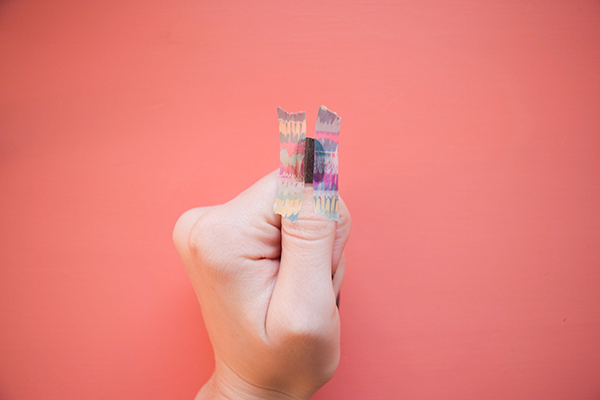 Next take that washi tape (or whatever tape, washi tape tends to do less damage to the polish underneath) and rip it up into a bunch of short pieces.
The tape will act as a barrier so you can get clean glitter lines and not deal with a big mess. Use two of the pieces of tape on each nail to create a space right in the center of the nail.
To apply the glitter and not have it take forever, use a makeup sponge.
Just paint some glitter polish onto a makeup sponge. The sponge will soak up most of the polish, leaving the glitter. You can then use the sponge to dab on the glitter over the exposed polish in between the tape. Peel off the tape as you go, before the glitter dries so you don't accidentally glue the tape to your nails with the polish.
When you're done coat it all in a thick layer of top coat so you have a nice, even manicure!
These glitter stripes are the much more chic but still fun take on the classic NYE glitter manicure.
Love this article? For more beauty, style, travel, and trending topics check out The Luxury Spot on Facebook. Like us and we'll love you back!