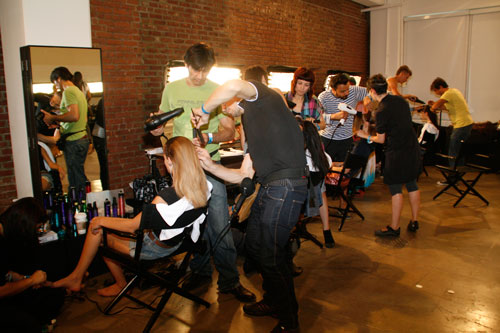 Our travels through the newly erected Lincoln Center tents this fashion week have brought us through the beauty ringer of colors, billowy pastels & space age textures that will rock the trend train through Spring.  Visit backstage with us to take a look at a few of our 'best' looks.
Best Use of Neon Hair Gel: Joseph Altuzarra
TIGI stylists slicked back hair with pieces of teased and then PIN straightened hair mimicked the look of fabric, and was far from dull with a variety of neon gel painted on either the left or right temples of the model.  Makeup by MAC let the hair take the spotlight. A natural glow with the exception of a deep heavily accented cheekbone kept the look  Futuristic, minimalist and edgy.  Nails by CND were all about texture to accompany the TIGI textured hair, with the milky & multi-dimensional salmon hue called Perfectly Bare, topped with shimmer & a matte to take it down a notch. Total sci-fi barbie look.  And for whatever reason, I am now heavily contemplating NEON blue streaks for Spring to accompany every outfit I envision.
Best Sultry Muted Moment: Catherine Malandrino
Stylists from Bumble and Bumble channeled  the retro side-sweep with hair pulled back and tied, braided and twisted into a chignon. They use Bumble & Bumble Sea Spray before putting hair back to give off a 'back from the beach' look. Makeup by MAC was a shimmery purple with a natural lip and cheek, but with the seemingly hot theme for #NYFW- cheeks were heavy & defined.  Nails by CND were inspired by the days of summer spent by the shores of the south of France. A coat of 'Desert Suede' with one another coat of Super Matte kept the look sophisticated & classic to compliment the  blonde, auburn and terracotta in Malandrino's line, which consisted of draping using relaxing fabrics like gauze and linen which mimics the pulled together, simple hair and nails. Loved the warm, natural, made me wanna lay on the beaches of Santorini with a younger man, fuzzy feeling this look gave.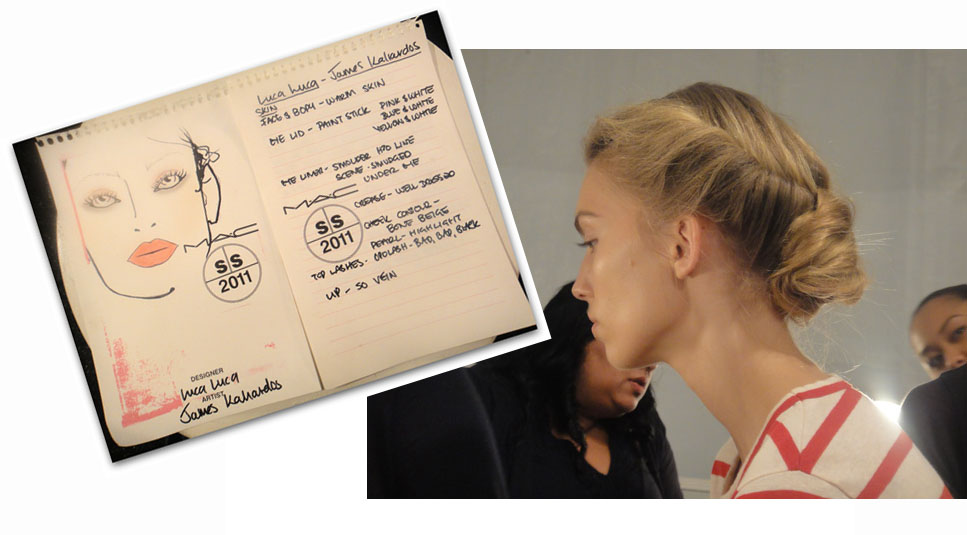 Most Wearable Hair: LUCA LUCA
Stylist Teddy Charles started with a basic middle part, to set the stage for Remington's Styling Wand (my new obsession) to create twisted & abstract curls on each – then brushed out (tip: Teddy used a Mason Pearson – find it here) to create the undone texture collectively spun into a low sophisticated bun. The hair was well suited for the line, inspired by the lady who cruises around the globe to be inspired by worldly architecture. MAC artists contrasted the billowy pastel softness of the hair & clothing with a smoky lavender eye & clean fresh, sun-kissed skin. LUCA LUCA's entire head to toe vision was captivating, flirty & attainable, with a twist, for any season.