Pantone, the leader in all things color, went above and beyond the call of duty this year in their 'Color of the Year' selection.  Honeysuckle Pink. It really is the year of the Gays, the Girls. Step back, manly men – we're pink and we're proud, get used to it.
I'll be reppin' my color of the year with Ke$ha lips (a la Spa Week variety ), with my pedicure (I mean, under these big lunky boots, there must be a neon-colored light at the end of the rainbow, no?), and of course, to stay beautiful with lots of water encased in a sleek reusable glass water bottle.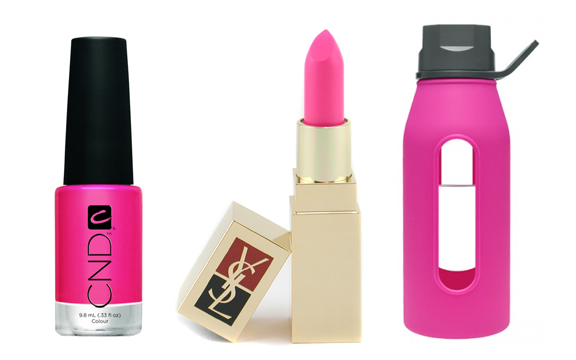 CND Colour in Smoochie $9 [buy] //  YSL Beauty Rouge Per Couture Lipstick in Tropical Pink $19 [buy] // Takeya Classic Glass Water Bottle  $19.99 [buy]
Disclosure: All products were provided for review. No monetary compensation was received for this review. All opinions belong to the author.