I was excited to find a wrinkle erasing product from a line that I already love for their spa like bath detox.
I hoped I'd like their expert youth wrinkle correction cream as much.
The problem I have with most of the wrinkle erasing creams on the market is they burn. Not sure if they might be trying to erase wrinkles by taking off a layer of skin, but I do know I don't look any better when I'm bright red!  And really, when a product burns you don't want to stick with using it.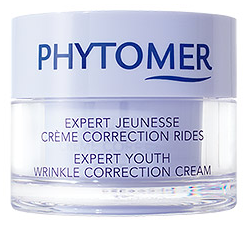 I was pleasantly surprised by Phytomer's cream.  It does initially tingle a little—and believe me I was prepared to feel the burn that usually follows—but it didn't!  No redness, no burning, but a definite tightening feel, while still very much moisturizing.  They say women usually see optimum results using it twice a day for a month. Figure for something that from day one feels gentle and effective—two words you don't often see together in anti-aging products– it's definitely worth a shot!
Disclosure: All products were provided for review. No monetary compensation was received for this review. All opinions belong to the author.