Many of my friends have given up hope and succumbed to promises of plastic surgery.  But while I've noticed some changes in my skin, I don't feel quite ready to undergo surgery, even if people choose to call it an office procedure.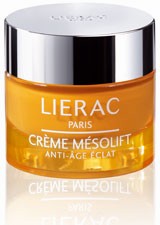 One of my friends suggested I give Lierac's Mesolift Creme a try.  It's filled with vitamins, minerals and citrus alpha hydroxy acids.  I have super sensitive skin and it made my skin a little red when I first applied it, so I decided to use it at night and see if I saw any results.
After a few weeks I noticed my skin's elasticity seemed restored and my complexion looked more even.  And my skin felt better, more hydrated.
Applying Mesolift at night is treat because it smells wonderful!  In fact, with the aromas of apricot, from the apricot butter, and lime, from the lime wax, it was hard to resist giving it a taste.
Crème Mésolift ($54) is available in European Skincare Centers at select CVS/pharmacy and Duane Reade locations.
www.lierac-usa.com www.beauty.com www.skinstore.com
Disclosure: All products were provided for review. No monetary compensation was received for this review. All opinions belong to the author.