Generally I try to avoid anything that spins or that which causes me to spin (you can imagine the fit I once threw at Disney's Teacup Ride). However, I am also known to have a sincere interest in, and dedication to, anything which decreases my output of energy. Therefore, a conflict arose when I first encountered Spinlash, the first mascara which spins itself FOR YOU.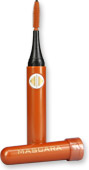 My fear of all things spinny would have to wait; this seemed to good to be true. I have to say that about 19 minutes out of my 20 minute makeup routine is spent with my face pressed up against a mirror, wrist wobbling, fingers shaking, trying to perfect my mascara application. If all I had to do was sit there and push a button, there would be an extra 19 glorious minutes added to my day for Gossip Girl watching. I mean working.
The brush spins both clockwise and counterclockwise to accomodate upper and lower lashes and righties and lefties. The mascara comes in black and brown, but you can also dip the spinning wand into any mascara of your own. As I brought the spinning contraption closer and closer to my eyelashes, I couldn't help but picture some sort of inevitable eyeball-damaging catastrophe. Alas, no such problem occurred. My lashes were instantly woven through the spinning head during which time they were pulled to lengthen and coated to thicken. As long as my finger was on that little button, my hand stayed as motionless as Jennifer Aniston in bed.  Also, in case you come at your eye like Rambo with a machine gun, the pressure sensitive brush automatically stops if the user pushes down too hard. Genius! This baby also makes a great stocking stuffer, so grab a few while they last.
You can find Spinlash at CVS, Target, Duane Reade, Drugstore.com, Bed Bath & Beyond and Spinlash.com.
Disclosure: All products were provided for review. No monetary compensation was received for this review. All opinions belong to the author.