According to the Skin Cancer Foundation, "Wounding effects from UV radiation on the skin's DNA account for nearly all visible signs of aging and contribute to 90% of non-melanoma skin cancers."  If that isn't enough to scare you, we've all seen what our older relatives & the beach babes in Hollywood look like once they progress in age. The era is worshiping the sun is over, ladies & gents. Here are our recommendations for what to covet in the hot, hot sun this summer.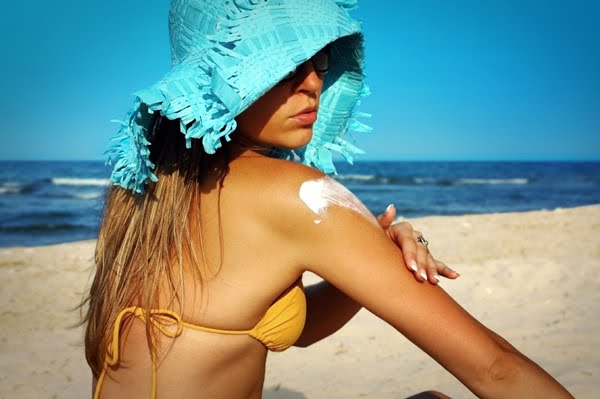 If you have sensitive skin: Lily B's Botanical Rich SPF 30 Ultra Defense [$22.50 lilybskincare.com] : Let it be known, sunscreen is essential for sensitive, burn prone skin, but many times will irritate skin worse than a sunburn may. It's a back & forth that those with rosacea or simly sensitive skin will face, until they try this stuff out. Containing all the necessary sun protectants, this also contains organic green tea, aloe vera, sunflower extracts to sooth, all paraben free & non-comodogenic for pore-perfect skin all summer long.
If you have aging skin: CellCeuticals Biomedical Skin Treatment PhotoDefense Anti-PhotoAging Daily Skin Protector SPF 55 [$45 cellceuticalskincare.com]: Whew, that was a mouthful! Shorthand version, this ultra-light stuff is fortified with vitamins & sunscreens, as well as  its patent-pending Photoplex formula to provide extreme anti-aging protection that can be worn alone or with your normal day cream for a wrinkle fighting, sun protection cocktail.
If you have a budget: Australian Gold Sheer Coverage Sunscreen [$9.99 australiangold.com]: I mean, it's 6 whole oz's for under $10. How can you go wrong? The reputable Australian Gold brand even splurged for the InvisiDry technology in this sweat-free, mineral-oil free formula, to provide a fast absorbing, non-shiny smoothness. Now you can frolick in the sand without half of the beach sticking to your legs.
If you're a multi-tasker: NEOVA DNA Damage Control Everyday SPF 43 [$39 nextderm.com]: Designed for daily use for photo (sun) protection of the face, neck, décolletage and back of hands, it can be used all over, and sans moisturizer. A multi-tasking product of epic proportions. But, don't let the 2.5 oz size fool you. A little goes a long way, and it's petite enough for popping in to your travel bag for double-duty vacay beauty.
If you're in to space-aged technology: ANTHELIOS 45 Sunscreen [$27.90 larocheposay.us]: Commonly referred to in Europe as "Shaka-Shaka", this patented combination of UV filters & performance boosting SPF and a powerful patent-pending antioxidant complex, including a cell protecting plant extract named Senna Alta, has CELL-OX Shield to provide both short & long term protection against sun. Shaka-Shaka" status apparently comes from the fast-drying, silky, matte finish. We just know it works.
If you're sporty: JASON Naturals Sun Care Sport Sunblock SPF 45 [$11.95 jason-natural.com]: This formula is gentle & tear-free all while being sweat proof and antioxidant rich to help fight the sun as well as free-radicals. Organic, soothing & oil-free, it's perfect for the entire family, right down to baby.
If you're the outdoor type: Aubrey Organics Natural Sun SPF Sport Stick [$8.95 aubrey-organics.com]: I'm well aware of those who get all blech about slathering sunblock all over their faces & lips. For them, we recommend the stick form, for a more pleasurable, compact & easy to carry version of sun protection great for throwing & keeping in a beach bag, or popping on a key chain for biking & hiking. Containing Titanium & zinc oxide for a powerful sunblocker cocktail, it also contains jojoba oil to condition (good for an existing sunburn) and rosa mosqueta roe hip seed oil to balance & improve skin's elasticity while renewing cell health. Hike away, without the harm!