The bigger I get (19 weeks, yeehaw!) the more intense my search for pregnancy-safe-but-totally-awesome beauty products becomes. Frankly, even though I have half the energy and I'm twice the size of my normal self (with far worse balance), I'd like to think I care just as much about the face I show the world as when I'm not knocked up. And the fact that my skin has gone buckwild due to hormones, stress, and lack of sleep hasn't helped much, either. By the way, have I mentioned that pregnancy isn't exactly a walk in the park for women who like feeling good about themselves? Sure, you get that "glow" but that's just as every other part of your body is malfunctioning… so here's what I've found this week that has totally inspired me to keep getting cute (or trying):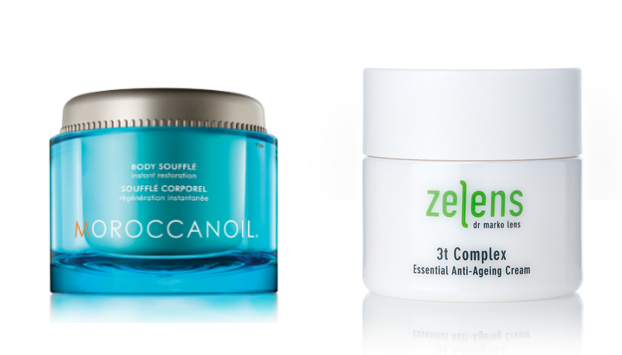 For the body, I'm loving MoroccanOil Body Souffle. Holy macaroni, it smells how I imagine Heaven. Or something even more glamorous, like Shakira's post-concert sweat. Just kidding. Sort of. But seriously, every time I lay it on it feels like my slow-moving pregnant butt was just transported to somewhere tropical, serene, humid, and happily free of baby-harming chemicals (read: Barbados). If you thought it was good in your hair you need to check yourself- it's even better on your body.
Speaking of things that smell pretty delish and don't have any weird chemicals, I've been addicted to Zelens 3t Complex for my face. It's not oily, smells like a field of wildflowers and grass (mildly though- because my nose can't handle too many extra smells these days), and is perfect for the warm NYC days we've been experiencing lately. It's packed with anti-aging goodies, too, and magically doesn't make my skin break out (read: everything was making me breakout until this cream… damn you, hormones).