In the event you find yourself trapped inside these prison walls (read: your living room) with one or more ankle-biters, but you're also a well-maintained lady (c'mon, you're reading this, you must be), here is your survival guide to getting back to the outdoors (even if the outdoors are simply the parking lot of your local Whole Foods shopping center).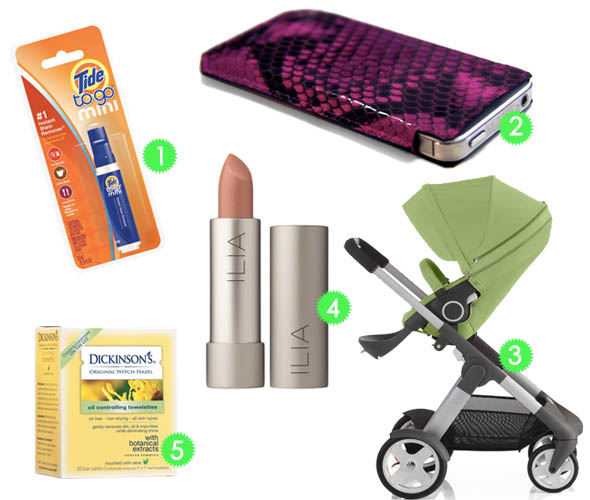 1. Before anything, no matter what you do, clean the spit up and mashed cheerios off your ensemble. Nothing looks cute when it smells of baby puke. A Tide pen will help you reach clean clothes nirvana.
2. Once you've mastered the "clean clothes" routine, you're ready to move onto the more advanced levels of fashion. Your phone is your "other" baby, and it needs the same level of glam protection you'd give the one you popped out of your lady parts. Ramiro Encizo makes a genuine python skin iPhone 5 case in hot pink. Do I really need to say any more? If I do, we're obviously not on the same page. THIS CASE IS EVERYTHING.
3. You're almost ready to stroll, girl! And when you do, the Stokke Xplory is the Ferrari of strollers. It adjusts in about a bajillion ways, comfortably fits teeny tiny moms or tall ones (seriously, this is the ONLY stroller on the market that doesn't cause my 5'8″ frame to become lurch-like). You can chat with your little one as he/she faces you, or send that kid in the opposite direction to check out the scenery and give you some peace.
4. Now, I know what I'm about to say will rub some people the wrong way, but the truth is it's ALWAYS worth putting 30 seconds of effort into your personal appearance before heading out. Why? Not because you're a shallow woman living in a cold world. It's the opposite. I mean, if you run into an old friend from high school who sees you looking crummy, you're going to feel self-conscious about it for weeks. If you feel even mildly put together, you're more likely to engage in a fun and potentially meaningful conversation. Slap on a neutral lipstick. You'll be better for it and won't come off as that overloaded-on-pigment-and-caffeine mom at the playground (you know the ones I'm talking about). This shade by Ilia is too good to pass up.
5. Wipe it all down, off, whatever. Witch hazel is amazing, and it's perfect for wiping down germy phones, sweaty skin, gross handles (stroller handles after a long day out), etc. Also, it perfects the holy heck out of your skin. These wipes by Dickinson's are pretty jazzy.