If New York is the brain of the United States, then Los Angeles is certainly the heart. It's a place where people go to fulfill their dreams, and experience a taste of the fabulous lives they have seen both in movies and television since birth. The Luxe City Center Hotel, in Los Angeles is at the center of the downtown area, close to everything like the Garment District, Disney Concert Hall, Dodger Stadium, Olivera Street, and Chinatown.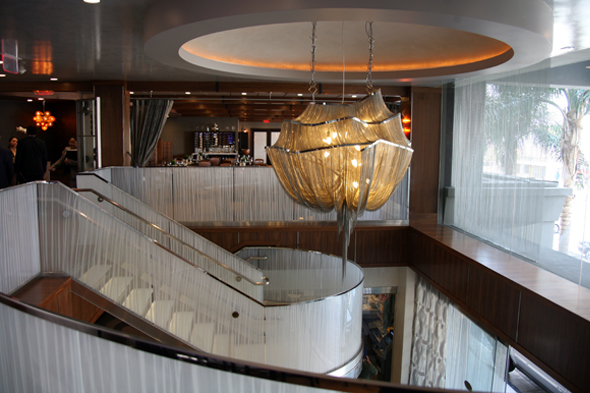 We recently went on a business trip to LA, and stayed at the Luxe, and were super pleased with the friendly staff and amenities. There were cookies upon arrival, free water bottles handed out at every turn (got to beat that LA heat) and a huge TV on which Bryce and I watched a marathon of Myrtle Manor on TLC).  When we weren't stuffing our faced with baked good or watching trashy tv, we discovered that the hotel is directly across from the LA Convention Center, the Staples Center, Nokia Theater, LA Live, Grammy Museum, Regal Theaters, ESPN ZONE and the Conga Room. Basically what this means is that no matter what you are looking for, you can find it within walking distance.
The hotel is decorated in a sort of old-Hollywood, yet modern aesthetic with plexiglass crystal wall sconces, textured wallpaper, and dark plum and pale gold colors with chrome accents.
If you find yourself in town for a concert or event, the Luxe City Center Hotel is worth checking out, because if offers elegance and convenience, directly across the street.