The appearance of our skin is based on internal and external factors. The internal factors include our genes, while the external covers our entire surrounding environment. In terms of the external factors, there is a lot we can do to control the way our skin looks. The ladies at philosophy are experts when it comes to beautiful ageless skin. They emphasized the simple equation of healthy lifestyle = healthy skin! This combined with philosophy's new Miracle Worker line is sure to give you great looking skin. It's never too early to start thinking about using anti-aging products. In fact, its been recommended to begin using them in your 20s to better prevent fine lines and wrinkles from forming in the first place!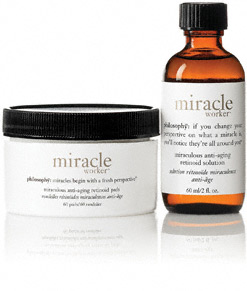 So what makes the Miracle Worker different than all the other anti-aging products? It's a little something called hpr – a  next-generation, high-performance retinoid suitable for all skin types. It works fast, still delivering all of the skin benefits of a retinoid, with less chance of irritation. The Miracle Worker's combination of hpr, vitamins C and E, and natural botanicals are what improve the anti-aging results. In fact, according to clinical results of the retinoid pads, results were seen in as little as one week! Noticable improvement of skin dullness was seen at 4 weeks, and the appearance of wrinkles was reduced by 8 weeks! No wonder this product is called the Miracle Worker.
The Miracle Worker line consists of anti-aging retinoid pads and solution (pictured above), miraculous anti-aging moisturizer, and soon to come in June, an anti-aging concentrate! All of these are geared to revealing your flawless skin, making you beautiful inside and out.
Disclosure: All products were provided for review. No monetary compensation was received for this review. All opinions belong to the author.