Can you believe the grand Time Warner Center has been a NYC destination for 10 years already?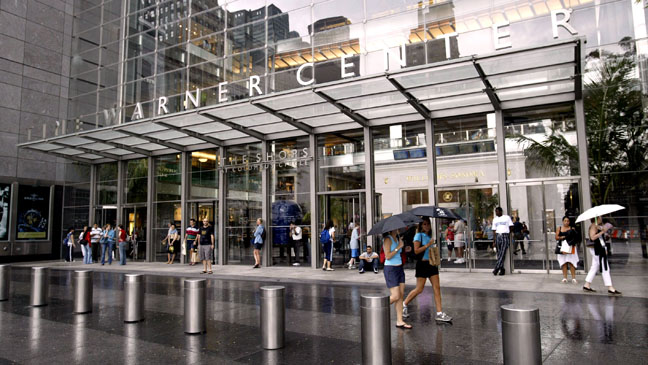 I remember when the Time Warner Center was just being finished– I had just moved to NYC from South Florida as a bright-eyed and fresh 20 year old with nothing but time to kill, sushi to eat, and shopping dreams. At the time, the Time Warner Center was sort of an everything draw for a young New York City girl– complete with the best sushi in town, a Whole Foods, Williams Sonoma, and a variety of places for me to spend all my extra cash on denim that vaguely looked like every pair before it. 10 years later I have 3 kids, still live nearby, and find myself brunching at Landmarc with the little ones, walking around inside on dreary days when Central Park isn't an option, and still spending too much on denim that vaguely looks like every other pair before it.
Now there's a 10th Anniversary package being offered by Time Warner Center and Mandarin Oriental — only 25 reservations will be honored for the $9,925 price tag (which is for up to 2 people). The package includes:
-Two-night accommodations in Mandarin Oriental, New York's Premier Central Park View Suite.  Package elements include full daily breakfast, served in suite or in the hotel's signature restaurant, Asiate, as well as a rejuvenating journey at the award-winning Spa at Mandarin Oriental, New York. Guests will delight in ultimate relaxation with a Couple's Escape experience enjoyed in the comfort of a private Spa Suite, including a soothing bath with signature oil blends and side-by-side "Time Rituals," followed by private time and the spa's signature Five Elements Bento.
READ MORE: 5 Fun Things You Never Knew About the UWS
-Nine-Course Tasting Menu at Chef Thomas Keller's famed Per Se. Per Se is everything, so there's that, and Chef Thomas Keller is basically everything squared with a few bonus Michelin stars.
– "A Taste of Italy" Lunch Experience at A Voce Columbus. Michelin-starred A Voce Columbus recently welcomed Chef Filippo Gozzoli on board as Executive Chef. Nab a cooking lesson with Chef Gozzoli himself, to learn firsthand tricks of the trade acquired from his training in Cremona, Italy. Following the lesson, a four-course lunch menu will be served in A Voce's private dining room, and will include a highly-acclaimed bottle of wine from the restaurant's 8,000+ bottle collection.
-Backstage Tour and VIP Seating at Jazz at Lincoln Center. Guests will enjoy a private backstage tour to walk the halls that have welcomed jazz legends such as Ornette Coleman, Wynton Marsalis, and Maria Schneider, VIP concert seating in The Appel Room, Rose Theater or Dizzy's Club Coca-Cola, and an exclusive meet and greet with performers, subject to availability
For details on how to book, call  (203) 409-0041