With warmer days officially upon us (I think it's supposed to be like 70 in NYC today), it's time to kiss our winter makeup routines goodbye and opt for lighter, fresher, and more radiant skin. We can ditch the heavy foundations, powders, and plum-colored everything- this season is made for dewy, young skin.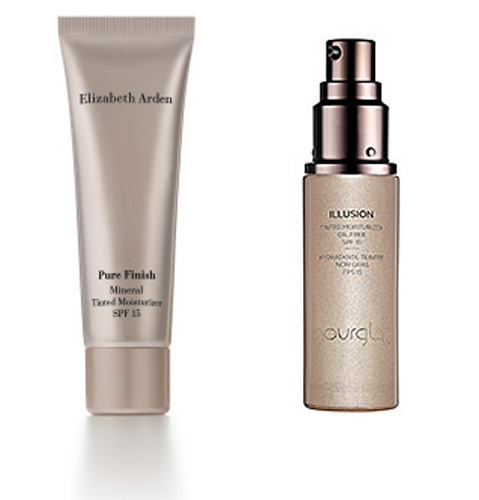 I've been obsessed with these tinted moisturizers lately, and one of them is likely to be perfect for you, too.
For the girl with combo/oily skin: Try Elizabeth Arden's Pure Finish tinted moisturizer with SPF 15. It goes on smooth, is super creamy, easily blends to match your skin tone, and because it's not a fully-pigmented moisturizer it will grow with you as your skin tone darkens slightly with sun exposure over the next couple months.
For the girl with dry skin: Hourglass Cosmetics' Illusion tinted moisturizer. It's lightweight, tinted beautifully, reflects light and radiance, moisturizes, and is perfect for the girl who loves to spend a little extra time on her makeup routine. This one is for a more skilled makeup lover, but if you're that kind of girl, you will be OBSESSED. It's paraben-free, gluten-free, and bad-stuff-in-general-free.
Hint: as we get closer to summer and the weather continues to heat up, you can dilute the color of these tints slightly by adding about a dime-sized amount of tinted moisturizer and a dime-sized amount of moisturizing serum in the palm of your hand and combining. Voila!