We've rounded up the best secret intel for brides to be– everything from money saving to event organization to make your day a huge hit!
Whether you're getting married soon or know someone who is, you'll want to bookmark these tips and tricks to make your big day go as easily as it looks in your dreams. We rounded up the best tricks, apps, and experts to give you the scoop:
1. Download BridalPulse in the app store. It's a free app that rounds up the best of the best bridal bloggers into one, seamless app. Instead of browsing like 14 different sites and wasting half your day looking for the best bouquet inspiration, you'll find a collection of curated bridal topics from only the best bridal bloggers. And, it's free (and if you're not getting married, who cares, it's still fun to look through). Check it out here.
READ MORE: Gluten Free Vegan Carrot Cake
2. Set aside a little extra cash. "Always set aside extra funds to tip your vendors and send thank you gifts to anyone who made your day flawless. It's something you don't think about calculating when a million numbers are being thrown at you, but adds up in the end." – Jeannine Morris, Founder of BeautySweetSpot.com
3. Look expensive, don't spend expensive. The big day is your time to shin in a gown that makes you feel special, but the truth is that many of the $5,000 gowns are actually produced in the same ways and factories as gowns closer to the $1,000 range. So, what's the point in spending more– just to say you did? According to many bridal experts, the only major difference in quality starts around $7,500– below that, you might as well spend around $1,000 for a gown you like and want to customize with accessories. Oleg Cassini for David's Bridal is a go-to favorite in this range, with styles similar to celeb wedding looks and quality tailoring. Plus, most of the line retails under $1500. Available at here.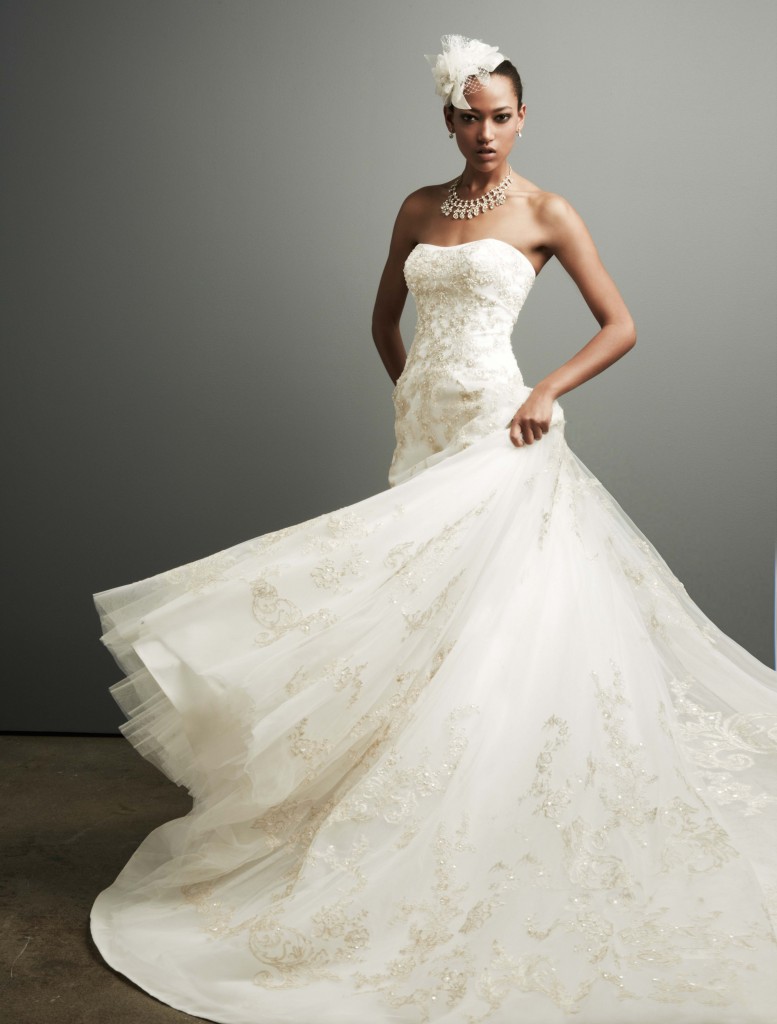 4. Be careful about which card you use for purchases. Whether you're buying ribbons and bows, paying for invitations, or leaving a deposit for a caterer it all adds up. The average bride racks up over $3,000 in "miscellaneous expenses" alone, and wouldn't it be a shame if she didn't get points towards her honeymoon with all that? Traditional airline cards are becoming obsolete, and cards like the Capital One Venture with Yes Miles are becoming a savvier choice for couples just looking to apply all their accumulated points and perks towards a honeymoon. Instead of only having one of a few airline choices, you can use your "Yes Miles" towards just about any travel related expense– and that could even mean the special honeymoon suite at the hardly-known boutique hotel in Bali. More details here.
5. Meet your photographer in advance. Don't just hire someone off the street– only hire the right one after you've met in person. Pro NYC photographer Ziv Fishfedder suggests, "The photography is about capturing the energy between the couple, and you have to have a connection in person to know if that's possible. Everything else– makeup, etc can be handled in the editing." Ziv's work can be seen here.
6. Save SO much time. "Prior to beginning the actual planning, I spent a lot of time researching ideas for colors, styles that worked.  This was invaluable later when I was planning, I knew exactly what I wanted and liked and made the whole decision making process of planning go must faster and smoother," says recent bride Valerie Aranov. Narrow down colors that work for your skin tone, your bridesmaids, the room you envision the wedding in, and just about everything else. Even flowers are easier to pick when you're just choosing between shades of peach.
7. Pack a hair-mergency kit. Celebrity hair guru Natasha Leibel recommends making a small emergency kit for hair. "Pack a travel hairspray, bobby pins, and an anti-humidity product because you just never know."
8. Go easy on the rigid up-do styles. Top hair stylist Ronen Marciano of Eva Scrivo Salon in New York reminds gals to, "choose a look that stands up to movement well. Rigid styles get ruined by the end of a long, danced out night. You'll be schmoozing and kissing relatives, and you won't want to worry about your hair in between."