Ahh, it's shorts weather ( between the flash flooding) here in NYC.  Thankfully, I've been on the prowl for my pre humid hot sizzle that is the literal melting pot we know & love dearly. Here are my top 5 must-haves for a concrete jungle summer.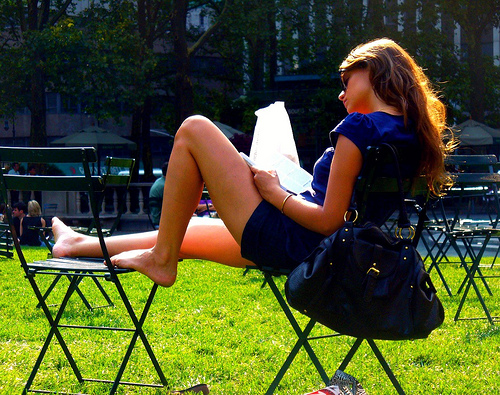 1.) Products to Tame the Frizz – One word. LiQWD.  I've been using this line sporadically for the past few weeks, and have literally been complimented every time, and ONLY when I use it.  Needless to say, my ego & my newly blond(er) locks will be faithful all summer long.  The sleek packaging doesn't lie. The lightly scented Volumizing Shampoo & Conditioner are in easy to use pump bottles that distribute a smooth, frizz-busting, strand smoothing, lightly scented formula that is seemingly the best combination of moisture & volumizing components ever to meet, ever, in the history of hair.
LiQWD Professional Products LiQWD.com $32 -$60
For straightening my naturally wavy hair ( mostly just the bangs!) – I've been able to combat my cow-lick bang situation and its matronly looking way of flipping up upon the slightest inkling of humidity in one easy straightening session with the Missiko.com's 1″  from HANA  (not even turned up full blast!).  Voted "Best Overall Flat-Iron" on Missiko.com, this comes ceramic iron that goes all the way up to 450° comes  paired with not only a FREE heat-resistant pouch, to make travel a cinch, but a hot-pad to lay your hot iron on, on your dresser, bathroom counter, rug or wherever you most often tame the weave.  Nobody likes a scorched rug.
HANAÂ  1″ Flat Iron at Misikko.com $229
2.) Squeaky Clean Cheeks – Summer in NYC is the best time for outrageous fashion to flourish… and for makeup to melt.  Keep it minimal with the idea of the century:  the HOOK-UP from mark by Avon. My ideal has been the concealer/mascara duo   A little lash action will keep you flirty, while your concealer can help mask any blemishes, uneven tone or under-eye darkness.  But you can choose between tons of their amazing face, eye and lip products to mix & match. All in one wand! Why didn't I think of this?!?
mark. Hookups: MeetMark.com Varied pricing
To start with a clean pallette, exfoliating every week will help, with a gel cleanser to rid your face of any oil.  My biggest splurge-worthy recommendation for pretty-cheek maintenance?  Facials. As often as monthly. This helps keep the viscous dead cells, oily-summer skin, clogged pores cycle from creating blemishes & blackheads. My pick for best in NYC is the customized, organic facial from Andrea DeSimone. In a relaxing state, she brings you from ruddy to ready! And she's a wealth of knowledge for your skincare concerns.
Customized organic facial ( using organic products from Amala & Anakiri)Â  AndreaDeSimoneSensitiveSkincare.com
3.) The Anti-Bacne fix – Nobody… I mean NOBODY likes bacne.  keep it at bay with extra exfoliation and serious spot treatment if needed. I recommend handmade (in Brooklyn!) vegan soaps from Wembè. They contain chunky straight from the farm ingredients to help alleviate any chemical reactions, and totally natural & robust scents that make you feel like you're in the middle of Paraguay right in your own bathroom!  The chunky raw ingredients help to heavily exfoliate naturally.  Seriously, start this now to prevent any unsightly flare-ups before that strapless soiree.
Wembè Loofah 3-pack $25 on Wembe.com
4.) Purse Essentials – Out frolicking after work, on the weekends, and everywhere in between isn't exactly conducive with lugging around tons of lotions and potions to weight you down.  Consolidate with double duty & mini products like Votre Vu's combo lotion/lip balm & Shobha's Alcohol (and scent!) free hand sanitizer.  You will be done with ashy ankles, parched lips & scummy sandy hands without missing a beat.
Votre Vu Duette Luxe Lip Balm & Hand Crème $38 VotreVu.com
Shobha Sanitizer $2 ShobhaThreading.com
5.) A Signature Scent – Small enough to fit in any bag, with a scent bold enough to stop any man on the street (fingers crossed!) I've gotta give it up to one of NYC's iconic celebs and her iconic NYC character's scent-tastic creation: SJP NYC.  Carrie Bradshaw, Sarah Jessica Parker's character in Sex & the City, may be a little too 'punny' and over the top, but ladies… this perfume is THE way to smell on a summer evening. And, although I never want this wee bottle and its robust floral scented contents to end, I'm super excited to use the colorfully wrapped casing to cart around my fav jewelry while traveling.  Let's be clear here. When its' done, I'll sure be purchasing another one… can't have a signature scent without the spritz!
SJP NYC $35 available at Fine Department Stores Nationwide
Here's to an awesome, and beautiful, NYC summer.
Disclosure: All products were provided for review. No monetary compensation was received for this review. All opinions belong to the author.