Ah, summer. Even when you reach that regretful age where the only difference between seasons are skin, tights, or leggings, you can still agree that summer is a different animal; a season of day trips and night trysts. It's also a season of sweat and- if you're a city dweller- grime (sorry, it's true). It's important, now more than ever, to come up smelling like roses. Or apples. Or lemons. Jump-start your day with an ice coffee and one of my top 5 picks for daytime scents.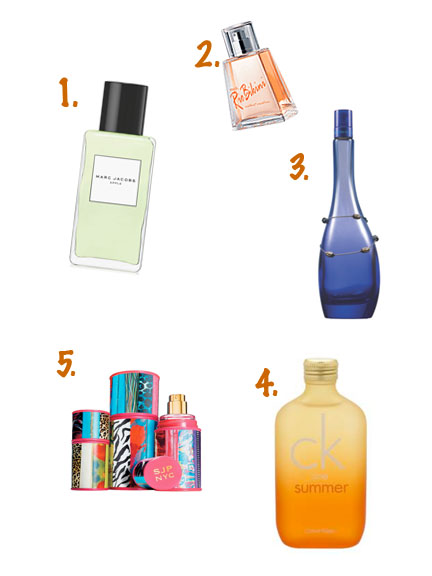 1. Marc Jacobs Splash Collection: Apple— MJ is well-versed in the seasonal scent, and the Splash Collection is no exception. This apple-scented perfume is light enough to use as a body spray, but has the staying power of perfume. With fresh, tart top notes of apple, lemon, and grapefruit, Marc Jacobs Apple is an ideal choice to energize your senses. The major selling point? It may be pricey at $68, but the bottle is HUGE. You won't have to worry about your stash evaporating mid-season, even if you're someone who tends to go spray-crazy.
2. mark. RioBikini Fragrance Mist– This light fragrance was created with the funemployed in mind. It's playful top notes of papaya fruit, juicy kiwi, and fresh-squeezed watermelon make for a flirty scent meant to be worn while frolicking outdoors as your counterparts slave away at their office jobs. Inspired by the pulsating city of Rio, RioBikini is the perfect "instant vacation" …besides, if you *are* funemployed, you can't afford one this year. You can, however, afford to pretend- RioBikini retails for $18 at www.meetmark.com.
3. Blue Glow by JLo– It really does pain me to endorse a celebrity-created scent, but truthfully, once you forgive JLo for the pain induced by Gigli, this scent actually deserves praise. With notes like wild water lily and shimmering water accord, this scent definitely screams beach or, "YOU CAN'T STOP ME MOTHERF**KER 'CAUSE I'M ON A BOAT." Pick it up for $32 and rock it with your nautical themed Pashmina Afghan.
4. CK One Summer 2010– This subdued scent gives the impression of sun rays washing over your body, which is why it's my pick for braving the summer from the discomfort of your office. It's a melody of fruit notes enhanced with more opulent notes like vetiver, patchouli, and cedar; so you'll smell less like a fruit bowl and more like a professional. CK One Summer 2010 gives you the opportunity to celebrate summer, even as you're bound and gagged to paperwork. A bonus? This scent is unisex. Buy it for your boyfriend and "borrow it" after an impromptu weekday sleepover. Prices vary.
5. SJP in NYC– My personal favorite, this scent channels Carrie Bradshaw at her best. We're not talking whiny Carrie, or Carrie who tricked generations of women into believing that sitting down to pen a navel-gazing article once a week pays in Manolo Blahniks, or Carrie who may or may not have jumped the shark already. We're talking Carrie at her most fab. Just think of a beloved Bradshaw outfit, or your favorite SATC episode. It smelled like this. (If you must know, my favorite happens to be the Post-It breakup/marijuana arrest episode. It definitely smelled like this.) While the base of this scent is fruity and floral, it also has notes of mimosa, vanilla absolute, and rum flavor. How could you not love it? Wear it on a date, to happy hour, or when you're kickin' it with your girls. This scent has no boundaries, and after one spritz, neither will you. At $35, this is certifiably the hottest scent of the season.
Disclosure: All products were provided for review. No monetary compensation was received for this review. All opinions belong to the author.