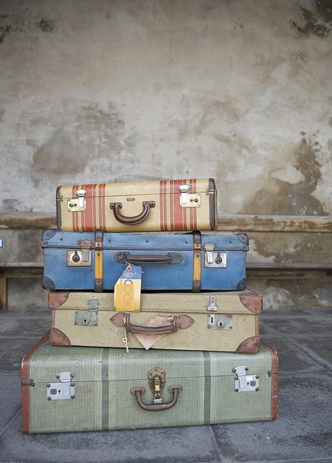 Folding clothes to put in a suitcase sounds like an easy enough task, but tell me you don't pause for a minute and sigh when you come to that knee-length trench that you have to deftly fit into your suitcase with minimal wrinkle creation. What about that button-up oxford, hmm? I'm sorry, but folding those intimidates me. Here are some tips on how to properly fold and fill your suitcase:
Packing Order: Start with the heaviest items on the bottom – your toiletries, jewelry, chargers, or cosmetics, perhaps? Shoes fall into this category, as well. Protect them with shoe bags or tissue paper.
How to Fold a Trench to Avoid Wrinkles: Lay the trench out flat and button it completely. Unfold the collar so that there are zero creases in the front. Place folded skirts and pants in the center of the trench, and fold the top, bottom, and sleeves of the trench over these garments. Place your little trench/pants/skirt package in the suitcase.
Folding Hints for the Daunting Button-Up: Button the shirt completely. Always unfold the collar (that's something I never did before – good to know). Turn the shirt over, fold in the sides and sleeves, then fold in two. For good measure, you can keep these shirts in plastic or dry cleaning bags – this lessens the crease-creating friction between garments.
Roll up belts and scarves to fill in those small leftover spaces, and there you have it! You totally just Martha Stewart-ed your suitcase. Happy organized travels!
Image [via]