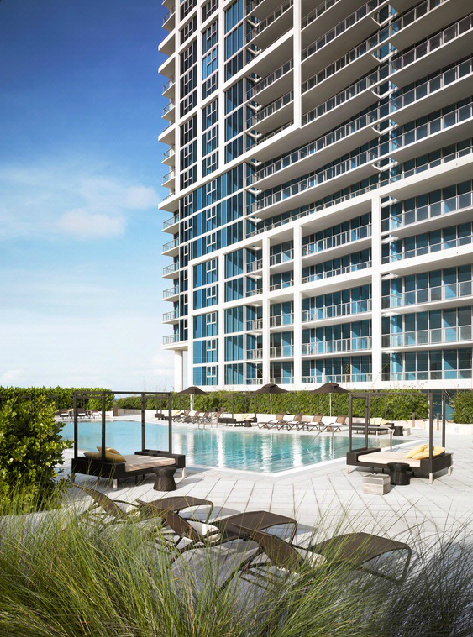 A few years ago I went to stay at The Canyon Ranch in the Berkshires. Let me tell you, I was miserable. It was snowing and cold and the only thing to do was go to the gym. I vowed to never go to Canyon Ranch again, until I heard that they were opening up a location in Miami. This changed everything. The fact that you are not confined to a claustrophobic gym. You can go outside and go swimming, surfing, do yoga on the beach. It is magnificent!
The first of its kind, this spectacular Miami Beach boutique hotel combines the flexibility of à la carte hotel services with many of the limitless healthy choices of acclaimed Canyon Ranch health resorts. A feast for your senses, Canyon Ranch Hotel & Spa in Miami Beach offers inspiring healthy living opportunities in a stunning luxury hotel setting – plus easy access to everything an exciting city has to offer.
Housed in the fully modernized and restored Carillon Hotel – a classic of Miami Modern architecture – Canyon Ranch Hotel & Spa in Miami Beach will enchant you with its exquisite design and matchless views. Fronting more than 700 linear feet of expansive, uncrowded, newly restored white beach, Canyon Ranch Hotel & Spa is convenient to both Bal Harbour and South Beach.
In a serene atmosphere of casual elegance, you can relax in your spacious, luxuriously appointed suite, float in a sparkling pool, savor healthy gourmet cuisine and organic wines and spirits at award-winning Canyon Ranch Grill™, work out in the largest and most beautifully appointed Spa in South Florida, and discover unsurpassedCanyon Ranch spa, fitness and health and wellness services. With its beautiful beach and menu of activities for parents and children, this splendid oceanfront hotel also offers a taste of the Canyon Ranch healthy living experience for families.
From morning walks on the beach and the thrill of our two-story indoor rock-climbing wall to integrative health experts to advise and inspire you, you'll find endless ways to reawaken your spirit and refresh your soul at Canyon Ranch Hotel & Spa in Miami Beach.
Images via Canyon Ranch