Everything you need to know about how to use a jade roller flawlessly.
Facial massage is nothing new, but tossing some tools into the mix? That's how you really get a skincare obsessed-person excited. How to use a jade roller for face massage isn't too far off from massaging with your hands (you'll want to try our head massage for hair growth techniques, too). You just need to focus on being gentle and adjusting pressure so it feels good using the roller.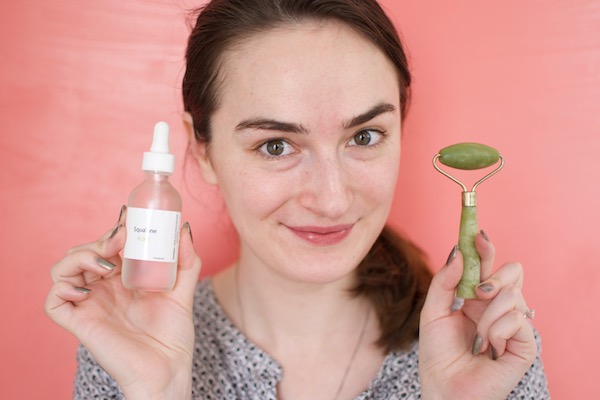 Apply oils, serums, moisturizer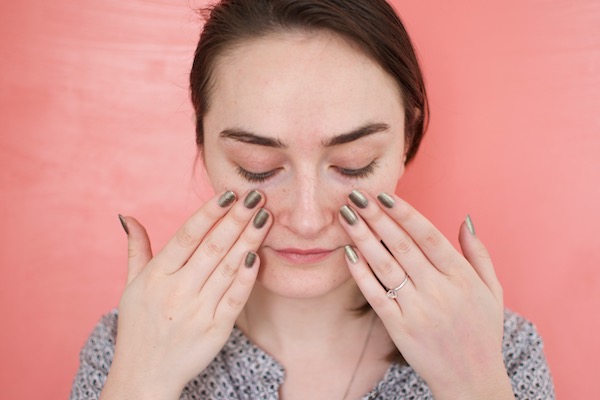 Although you can totally do a jade massage with a freshly washed face, it feels way better (and has a little more slip) if you roll after applying a hydrator of your choice. Squalane oil is my jam at the moment so I pat a few drops across my whole face before getting out my jade roller.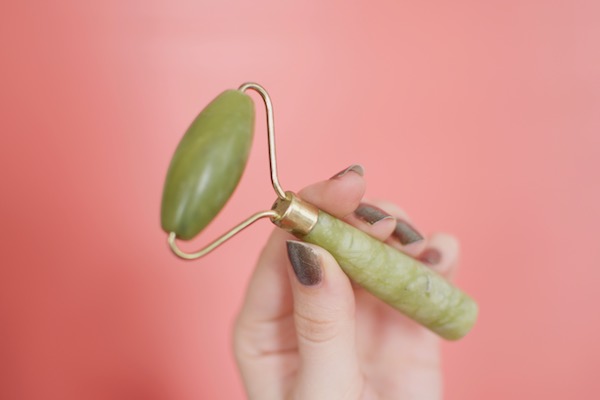 The roller itself can be pretty pricy if you're buying real jade. Having a real jade roller is so nice though because it has a natural weight, and feels cool against the skin. You can also find jade knockoffs, and cheaper versions made out of plastic, though we don't highly recommend the plastic versions.
Many jade rollers are double ended. One end is wider for massaging your face, the other is smaller so you can use it around the eye area. The only thing you want to keep in mind is being as gentle as possible around your eyes.
How to use a jade roller for face massage: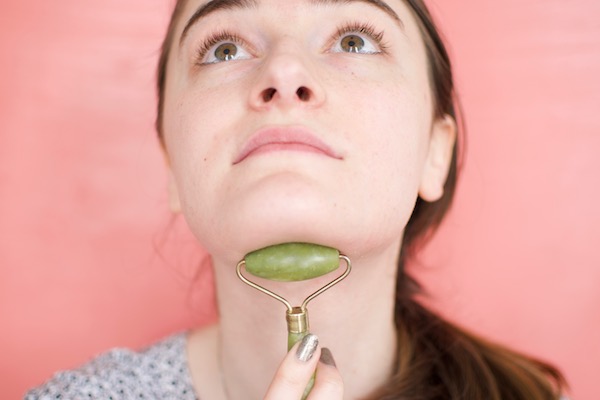 Using a jade roller for facial massage is great for lymphatic drainage and massage for edema. Read: it's awesome for allergy sufferers as well as cold and flu season. It can also be a stress reliever and help to relax your facial muscles.
Because it gets the juices flowing under your skin, it's best to work from the bottom up. Starting on your neck lightly roll up and down. Don't apply too much pressure, just work with the weight of the stone.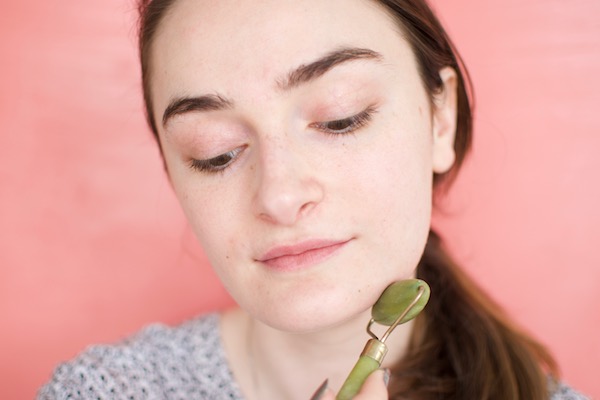 Next up is the jawline. Place the roller's widest part on the jawbone and roll back towards your ears. Roll a few times on each side of your jaw.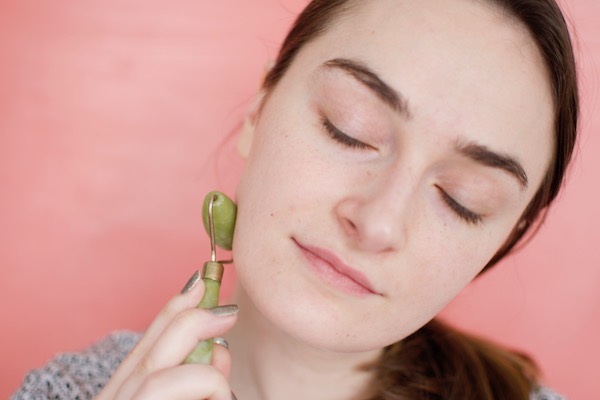 Pro tip for teeth grinders: the muscle right at the end of your jaw can be massaged with your jade roller and can melt away a lot of that tension!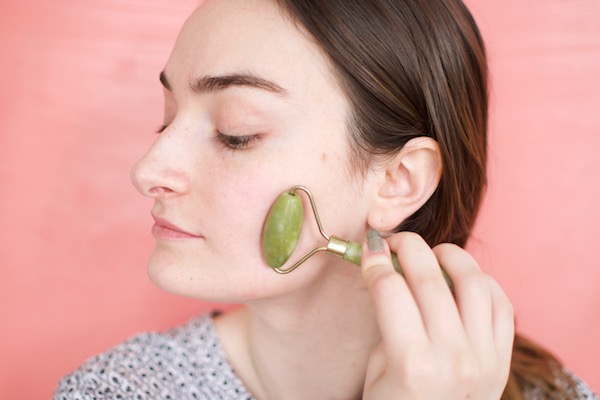 On the cheeks you'll want to focus on the area between your cheekbone and jawbone. Pull the roller backwards from your mouth to your ears.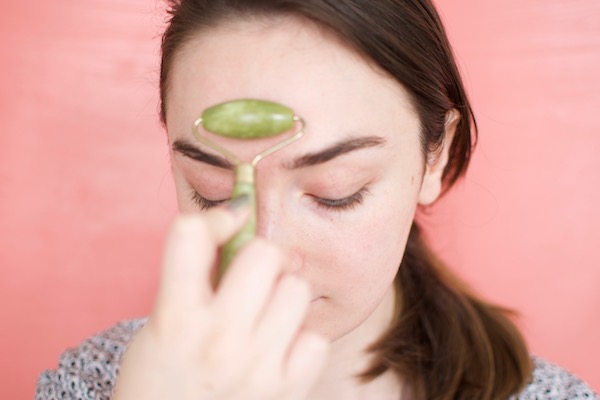 Many of us hold tension between the brows. I like to attack the brow bone from two directions. I do a couple of rolls straight upwards first to get those muscles relaxing. Then, I roll from the center over each brow out to the hair line.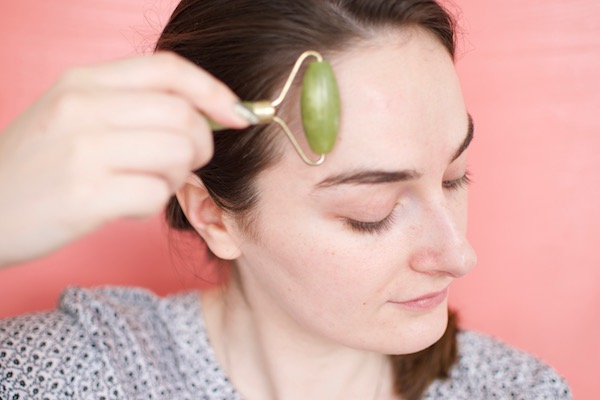 Last up are your temples. It's extra important to put light pressure here so you don't hurt your temple or eye area. Starting from your center forehead, roll downwards following your hairline, stopping above the cheekbone.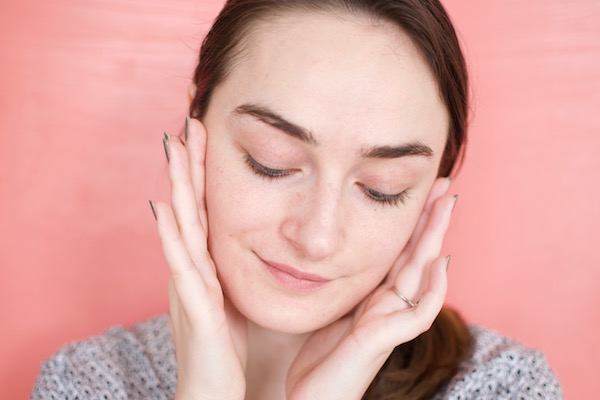 With each section of your face repeat the same step five to ten times. You'll feel all glowy from working your moisturizer into your skin and the muscles in your face will be totally relaxed. Just wash your roller with a gentle soap to remove any excess product to keep things sanitary.
Love this article? For more beauty, style, travel, and trending topics check out The Luxury Spot on Facebook. Like us and we'll love you back!