Jessica Levinson shares her recipe for the easiest and tastiest vegetarian bolognese sauce of all time. No elastic pants necessary.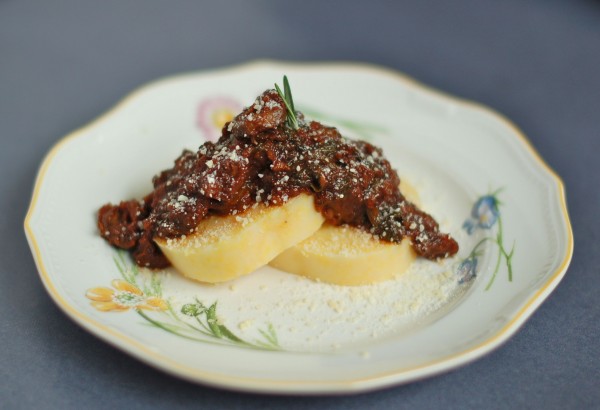 Love lentils? So does Jessica Levinson, a registered dietician, nutritionist, and founder of Nutritioulicious. She's so obsessed with pulses (yes, the official name for the family of foods lentils can be found in) that she works them in everywhere– even her bolognese sauce. "Pulses are nutritious, affordable, sustainably grown, and amazingly versatile (as you can see from the vegetarian bolognese). Nutritionally, pulses are a good source of protein and potassium, and excellent source of dietary fiber and folate, and they are antioxidant and iron-rich. Plus, they're gluten-free and sodium-free. What I especially love about pulses is how many ways you can use them in the kitchen – everything from soups, stews, and sauces to side dishes and entrees to baked goods and dessert!"
READ MORE: 8 Health Benefits of Lentils
Vegetarian Bolognese over Polenta Cakes
Vegetarian lentil bolognese served over polenta cakes and sprinkled with grated cheese is a filling, flavorful, and low-calorie meal.
Ingredients
For the Sauce:
2 tablespoons olive oil
1 cup chopped yellow onion
1 tablespoon minced garlic
2 cups sliced Baby Bella mushrooms
2 teaspoons chopped fresh rosemary (or 1 teaspoon dried)
2 teaspoons fresh thyme (or 1 teaspoon dried)
1 teaspoon dried oregano
2 tablespoons tomato paste
2 tablespoons balsamic vinegar
26-28 ounces crushed tomatoes (preferably no-salt added)
½ cup water
1 bay leaf
1 teaspoon Kosher salt
Freshly ground pepper, to taste
1½ ounces baby spinach (~2 cups)
1 cup prepared lentils
For the Polenta Cakes:
1 tablespoon vegetable oil, divided
1 package pre-cooked polenta, cut into 10 slices
Grated hard cheese, for serving (optional)
Nutrition Information
Serving Size: 2 polenta cakes, ½ cup sauce, 2 tsp Parmesan Calories: 203 Fat: 7 Sat Fat: 1 Carbohydrates: 28Sugar: 6 g Sodium: 574 mg Fiber: 7 Protein: 6 Cholesterol: 3
For the full recipe with preparation instructions, click here.