Vitamin A's purest form is Retinol: the miracle baby of chemistry that's credited for everything from skin cell renewal (true story) to diminishing the appearance of fine lines.  It's even said to bring back a healthy glow.  Essentially, if you're looking to pack as much over-the-counter anti-aging punch, this is the vitamin to stick to.
Our top 5 faves (in no particular order):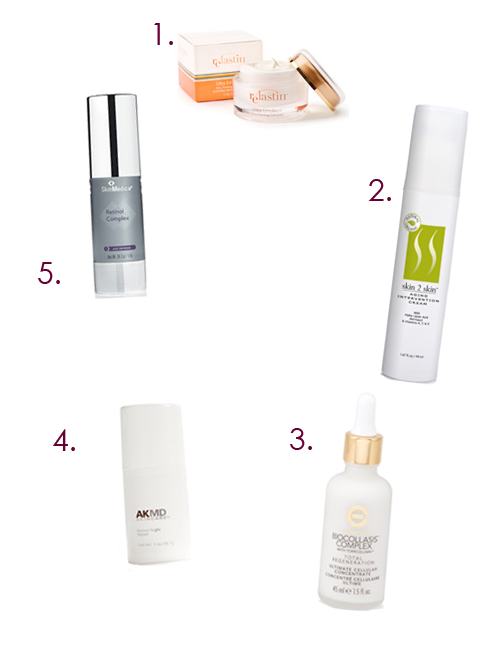 1. Relastin Skin Revitalizer has clinical evidence that says users' skin has more elastin than those who don't use it.  This formula focuses more on Zinc than retinol, which makes it great for sensitive skin that might redden or be irritated by stronger formulas.  This silky cream absorbs quickly and evenly, and layers well with makeup.
2. Skin 2 Skin Aging Intervention Cream is a richer formula for those with dryer skin.  The concentration of retinol is also noticeably higher in this cream, so make sure you don't have any existing redness or irritation.  Overall, this was my favorite night cream.  The thick, moisturizing formula was perfect for my complexion and left my skin silky smooth even when I woke up the next morning.
3. Elizabeth Grant's Total Regeneration Concentrate relies on their exclusive Torricelumn formula that uses a variety of vitamins, including A.  It uses plant stem cell technology to help repair skin damage and prevent new damage.  It's smooth, silky, and perfect as a first layer before a richer cream.  You can use this in place of a serum, or layer serum, concentrate, moisturizer, makeup.
4. AKMD Retinol Night Repair uses .5% Retinol to help minimize pores, fine lines, and even hyper-pigmentation.  This cream was developed by a doctor and made for maximum effectiveness.  If your skin needs some intensive care and age-reversal, this one's for you.  The formula isn't greasy, so it's perfect to layer with serums or concentrates.
5. Skin Medica Retinol Complex comes in sleek packaging that won't offend even the straightest man, and the price isn't bad either!  The cream formula is light, non-greasy, and the yellow tint looks medicinal enough to make you think you're doing something good for your skin.  And you are!  After just a few days of using this cream, I noticed improved texture and somehow that dull, tired look I usually get from sleepless weeks was swept off my face.
Disclosure: All products were provided for review. No monetary compensation was received for this review. All opinions belong to the author.