Veganism is becoming an increasingly popular lifestyle. Being a vegetarian myself, I can understand why, but even if you could never give up your love for meat – take one look at these cupcakes and you will salivate.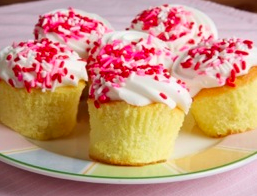 These, my friends, are completely vegan. Don't they look simply melt-in-your-mouth delicious?! Try them yourself – we've shared with you the recipe, thanks to Culinate!
Ingredients
1 cup soy milk
1 tsp. apple cider vinegar
1¼ cups all-purpose flour
2 Tbsp. cornstarch
¾ tsp. baking powder
½ tsp. baking soda
¼ tsp. salt (increase salt to ½ teaspoon if you're using oil instead of margarine)
½ cup non-hydrogenated margarine, softened, or ⅓ cup canola oil
¾ cup sugar
2 tsp. vanilla extract
¼ tsp. almond extract, caramel extract, or more vanilla extract
Steps
1. Preheat oven to 350 degrees. Line muffin pan with cupcake liners.
2. Whisk the soy milk and vinegar in a measuring cup and set aside for a few minutes to get good and curdled.
3. If using margarine: Sift the flour, cornstarch, baking powder, baking soda, and salt into a large bowl and mix.
4. In a separate large bowl, use a handheld mixer at medium speed to cream the margarine and sugar for about 2 minutes until light and fluffy. (Don't beat past 2 minutes.) Beat in the vanilla and other extract, if using, then alternate beating in the soy milk mixture and dry ingredients, stopping to scrape the sides of the bowl a few times.
5. If using oil: Beat together the soy milk mixture, oil, sugar, vanilla, and other extracts, if using, in a large bowl. Sift in the flour, cornstarch, baking powder, baking soda, and salt, and mix until no large lumps remain.
6. Fill cupcake liners two-thirds of the way and bake for 20 to 22 minutes. Transfer to a cooling rack, and let cool completely before frosting.