Fighting with your buds over which of the 10 Best Pic nominees will take home the gold? Parties all over LA/NYC and the rest of the galaxy? We're gonna need a serious pamper sesh after the mayhem that IS the 82nd Annual Academy Awards (AKA the Oscars) on Sunday March 7th , so win what the stars are using to slough off their sparkles & get back in gear for the week ahead.
Behold: THE Oscars Recovery Kit ( $150 value!)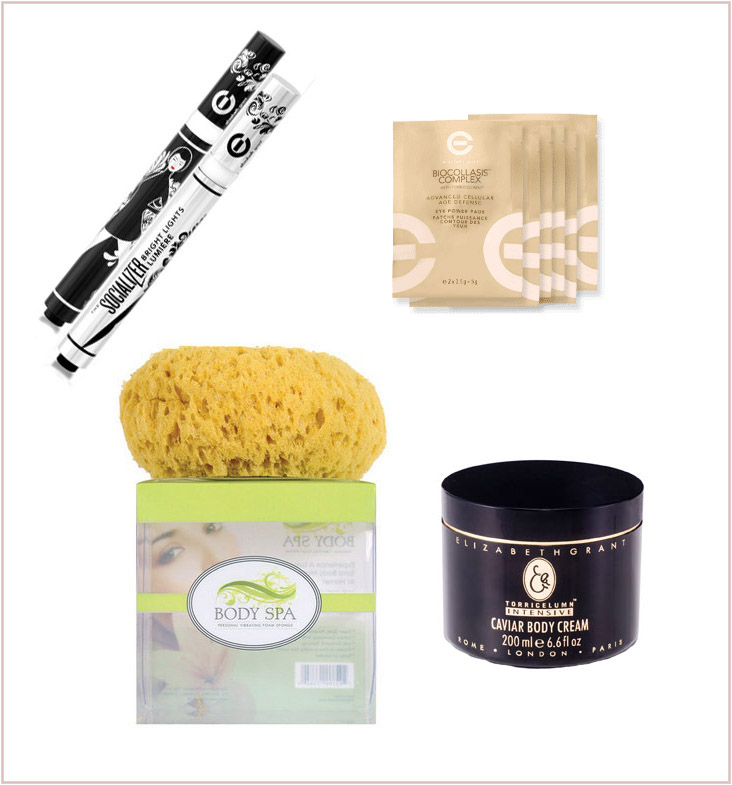 Clockwise from Top Right:
Elizabeth Grant The Socializer (2 $40) -Make it look like it never happened by using this day & night pen duo to smooth on emollients like chamomile and  go from the late night party circuit to the bright lights on Monday with ease.
Elizabeth Grant Biocollasis Complex Advanced Cellular Eye POWER Pads ( 6pk $25): Wear these soothing/cooling pads at your desk for a quick afternoon-fade pick me up.
Elizabeth Grant Caviar Body Cream (6.6 oz $60)Â  Luxurious whipped body cream, perfect to massage in to tired feet after running around in your Oscars heels. You can slather it all over your bod after a long hot shower with the…
Empire Labs Body Spa Vibrating Body Sponge/Loofah ($19.99)Â  Not only will these extra soft sponges & loofahs bring your bath suds up to cloud status, but the small vibing bullet implanted in each one will give you an extra massage & a powerful and even exfoliation. It basically should be called: Spray-tan-be-gone.


ENTER TO WIN: Open to US Residents Only ( Sorry!) Contest Ends 3/10/2010.
Tweet this contest or post on facebook linking back to us! You MUST give Elizabeth Grant (@EGSkincare & EG on Facebook) & Empire Labs (@EmpireLabs & EL on Facebook) each a shout out in order to enter.
Don't have facebook or twitter? (HUH?!?!) Enter your email below & leave a comment telling us what you love most about the Oscars ( parties? fab fashion?)
as always, you can find us on Twitter @LuxurySpot and on Facebook.com/TheLuxurySpot