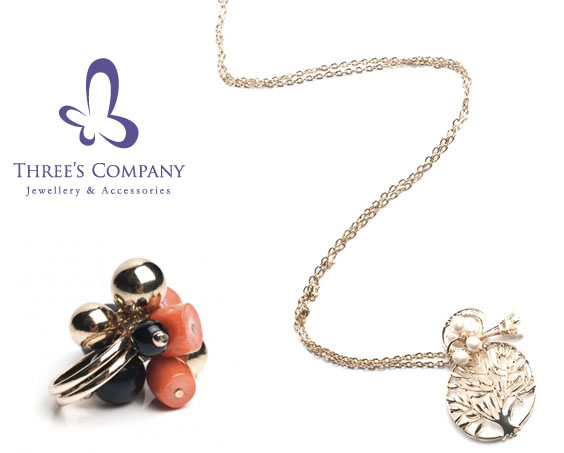 Living a real-life Three's Company situation… this giveaway is very near and dear to my heart. Three's Company, based in Canada, is one of the most influential accessory lines out there – giving us tons of quirky & classic options to bring our wardrobe from drab to fab Scarves? They've got it. Jewels? Duh.
And what's best?  They are using all of their power and good to help bring awareness to "Women's Month" — for EVERY piece ordered in the month of March… Three's Co will donate a piece of their own to Non-Profit Dress For Success, who help & encourage women to look their best to get out there in the work force. If that doesn't make you smile a little – and want to help out… I don't know what will.
We encourage you to get some springy gifts for your friends & loved ones at ThreesCompanyAccessories.com to help this worthy cause… but if you're lookin' for a little something for yourself  (you need a pat on the back for your good deeds!) you've come to the right spot.
Win your choice of one of the beautiful pieces pictured about.
Tree Charm Necklace$22 AKA: NATURAL NECKLACEÂ  $22Â  White freshwater pearls, tree charm and gold charms hanging off gold plated chain with lobster clasp (28″L)
Coral & Gold Cluster Ring $18 AKA: RAD RINGÂ  Gold beads with coral and black and gold beads on gold plated band (size 7.5)
FOR OFFICIAL ENTRY: Open to US/CANADA Residents Only.
Follow @ThreesCo on Twitter & @LuxurySpot on Twitter – telling us which piece you would love to win more! Rad Ring or Natural Necklace?
Don't have Twitter? (get on there & follow us!) Comment & enter your email below telling us which piece (Rad Ring or Natural Necklace?) you would like & why.
On Friday March 19th – 10 followers/commentors will be selected to win their choice of beautiful jewelry from Three's Company.