With super cold weather headed our way (if you're in the NYC area you've already experienced a serious bit of snow by now), it's time to switch over our beauty routines to something a little more winter-appropriate. Here are a few of my fave makeup musts for the season: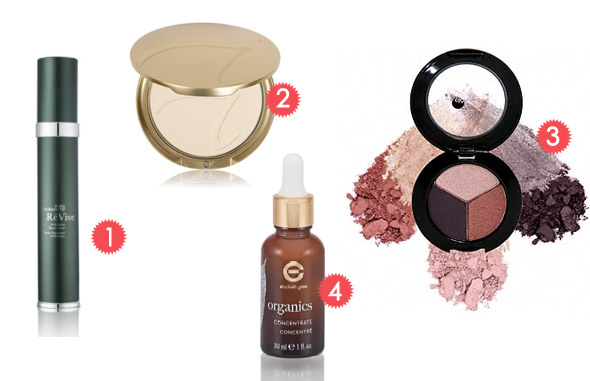 1. ReVive Pore Corretif. Since we're wearing heavier creams and makeup during the winter months, our pores tend to get icky, sticky gross from build-up and even increased oil production to combat the super dry air. Nothing ruins the holiday season like a bunch of Swiss-cheese-like pores, so I love ReVive's pore-shrinking formula. It uses technology that's got real science behind it to visibly reduce pore size on contact (and they keep getting smaller and dantier with use), and instantly changes the look of pores with light-reflecting particles. GENIUS.
2. Jane Iredale's Pure Pressed Mineral Powder. It's mineral goodness, goes on super smooth, doesn't get clumpy or flaky like junky powders do after a full day of wear, and the best part is that it comes in just about every shade under the sun. If you're going to spend money on makeup, the place to do it is on the stuff that makes your skin look like a dream… and this is it.
3. GloMinerals Eye Shadow Palette in Subtle, Wintry Shades. I love this color combo because it looks great on almost any eye color- especially gals with hazel, green, brown, or chocolate eyes. The highlighter is also superb beyond just the bottom of the brow bone- try using it to give definition to the inner corners of eyes, right above the center of your top lip, or dabbed gently on the top of your cheek bones for a night-friendly look.
4. Elizabeth Grant's Organics Concentrate. Somehow this lightweight creamy serum is made of organic ingredients (safe for breastfeeding and pregnant gals, woohoo!) and is super lightweight, making it perfect to layer under your fave cream or over your fave serum (like the ReVive Pore Correctif). It's got real Moroccan argan oil in the recipe, too, so you know you're getting a good dose of essential fatty acids to keep skin youthful and glowing with every drop.