Having grown up in the South, I am pretty well-versed when it comes to bigotry and racism. For those of you who don't think such things still exist, I invite you to visit Alabama. Obviously since I am multi-racial and gay I have a few opinions on the matter, so when I heard about Gary's Chicaro Club (yes, I am aware that we have the same name, but it fits a white bigot better than it does a mixed race homo teen model, anyway) in Oklahoma, my first thought was: "Fucking Oklahoma", and my second thought was: "I have to consult with Yelp."
What I found there was amazing. Why, you ask? Because Gary's Chicaro Club refuses to serve blacks, muslims, gays, and handicapped people.
READ MORE: Shanghai for Jetsetters
Since news of this shit-show has spread like wildfire on The Internet, people have retaliated by giving the restaurant some pretty hilarious Yelp reviews, mostly about gay sex. As many of you know, a Yelp review can make or break a business, so the fact that this asshole is getting some payback really tickles my taint. Scroll through the slideshow to see a few of my favorite reviews, and if you find yourself in Oklahoma (God forbid), feel free to visit Gary's and either dine-and-dash, or give a homosexual blow job in the bathroom.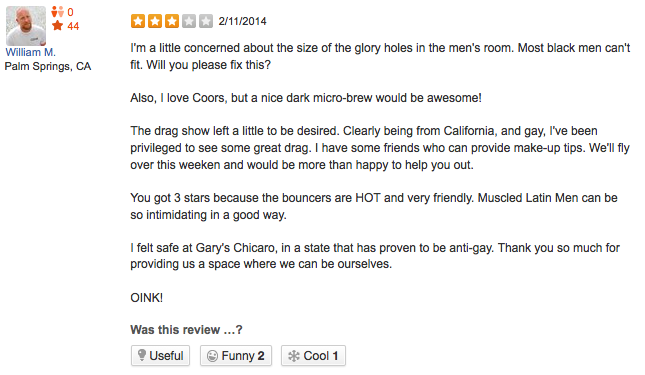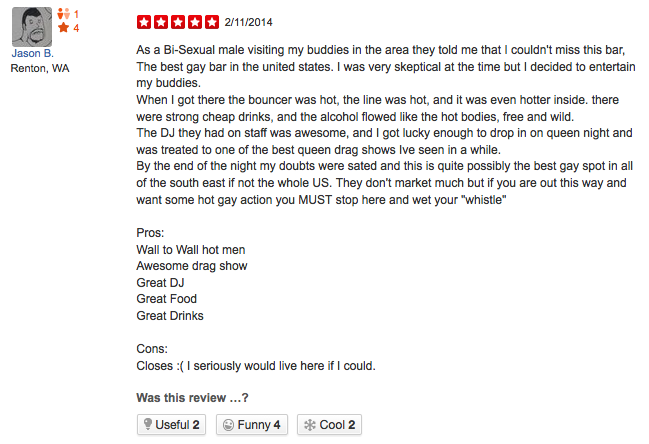 [
via
] [
via
]