This is the Emma Watson makeup tutorial your cinema-loving soul has been waiting for.
Emma Watson, the actress, activist, model and all around babe has a signature style. The quintessential Emma Watson makeup boils down to perfect dewy skin, soft pink blush, contoured eye makeup, and a bold red lip. So, basically a makeup look that everyone can wear and look just as gorgeous as Emma Watson herself.
Start off your Emma Watson makeup with a primer.
Primers are needed to smooth out your skin because unless you too been #blessed by the dermatology Gods you may not have her flawless face. We like Benefit's The Porefessional for reducing the look of pores and giving a velvety finish.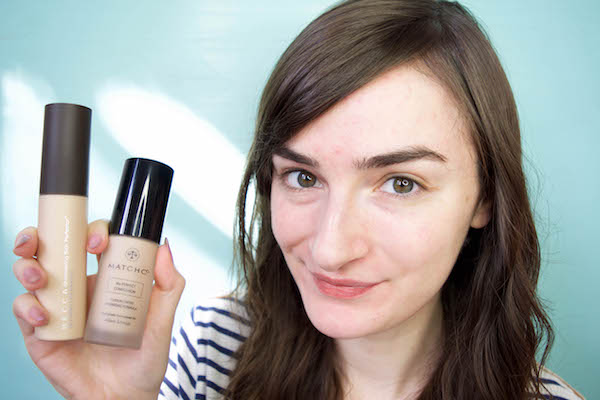 Opt for a dewy foundation.
Or, if you don't have a particularly dewy foundation on hand you can hack it with a liquid highlighter. We're using the MatchCo Foundation, and Becca Shimmering Skin Perfector Liquid Highlighter in Moonstone.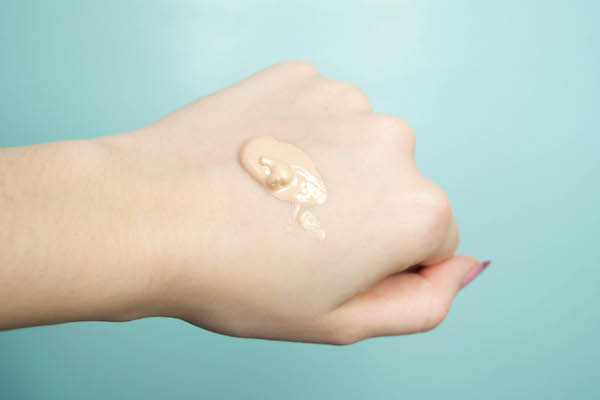 Dole out your usual amount of foundation onto the back of your hand and give a good pump of the liquid highlighter on top.
Then mix the two liquids together to make your foundation nice and dewy.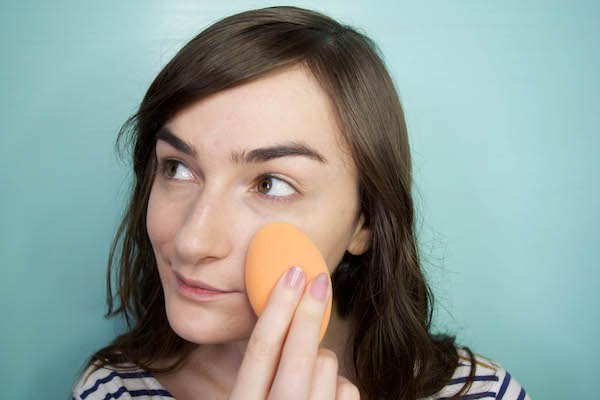 To keep the dewy train moving forward we like to apply foundation with a dampened sponge. Using a damp sponge as opposed to a dry brush helps to keep your foundation looking fresh and glowy. By the way, if you haven't already heard, EcoTools just launched new makeup sponges that are plant-based, better for the environment, and way better on your budget.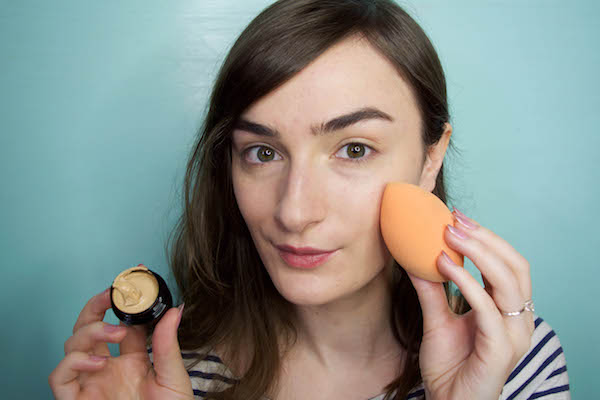 It's time to get concealing.
The typical Emma Watson makeup isn't too high coverage, so you'll want to make your concealing very precise. We're using the whopper dose of pigmentation found in the Kevyn Aucoin the Sensual Skin Enhancer. It's almost unbelievable how much coverage the teensiest amount of this product can give. We suggest applying with a very fine brush wherever you need, and blend in with the same dampened sponge. Make sure to use that sponge because it helps to meld the concealer with the foundation and keep the same dewy texture.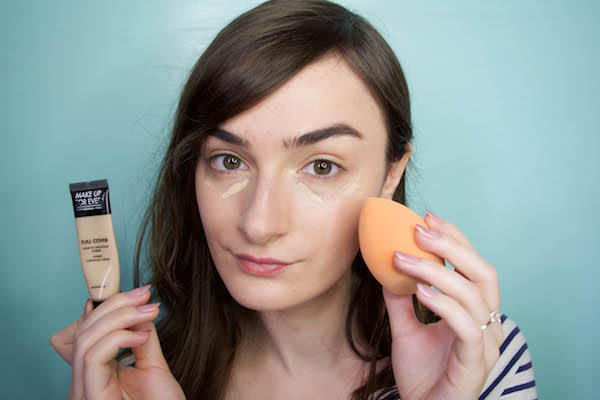 Next attack those under eye bags with something a bit lighter than your natural skin tone. We're big fans of the Make Up For Ever Full Cover Concealer under the eyes. And we're sure you've guessed it but we recommend bopping it in with the same sponge again.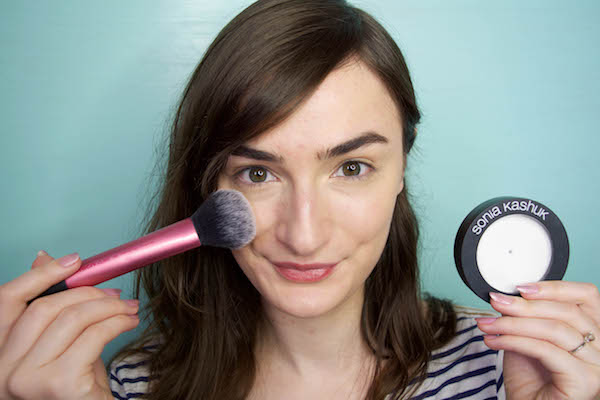 Set it in place with a fine powder.
The Sonia Kashuk Chic Luminosity Glow Powder is surprisingly not too shiny and works well all over your face.
Next up is that soft pink blush we were talking about.
We're using the Hourglass Ambient Lighting Blush in Luminous Flush right on the apples of the cheek. Make sure to use a light hand because the blush element is only there to jazz up this look, not take center stage.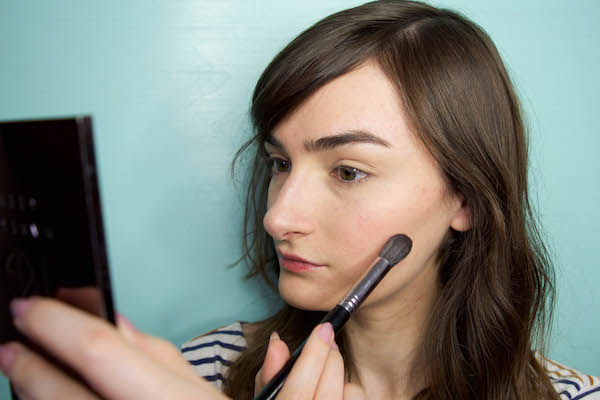 Not every Emma Watson makeup look includes contour, but a red carpet makeup look just feels wrong without it. To split the difference use a light hand contouring out your cheekbones so it's not too strong.
Moving on to the eyes.
In general, Emma Watson doesn't go for bold eye makeup. More often than not she goes for a toned down 1920's contoured eye look. Sometimes there will be a little shimmer, sometimes it's totally matte. For an all matte look we're starting off by applying MAC Matte Eyeshadow in Blanc Type all over the lid and up to the brow.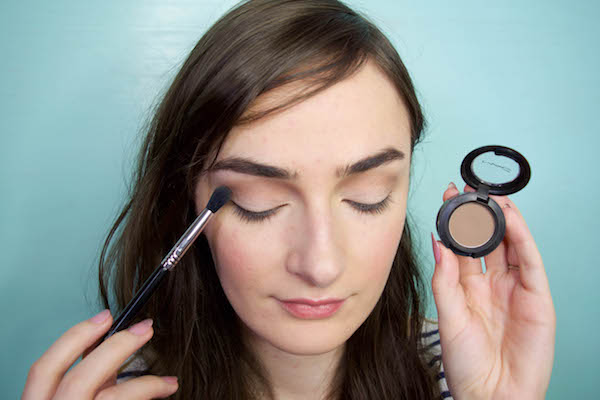 To contour in that crease use a fluffy brush and a cool toned matte brown shade. This is the MAC Matte Eyeshadow in Charcoal Brown. Obviously you'll want this to be nicely blended (why wouldn't you?) so take your time building up the color.
Emma Watson makeup rarely includes a winged liner look but usually a little something to spruce up the lash line. We're going in with a black eyeliner in the top waterline only. This helps to darken that upper lash line and make your lashes look thicker. To help emphasize this, apply a tiny amount of the same liner to your upper lash line and blend it out with a clean eyeshadow brush. We like the blended liner look because there are no harsh line's in Emma's eye makeup.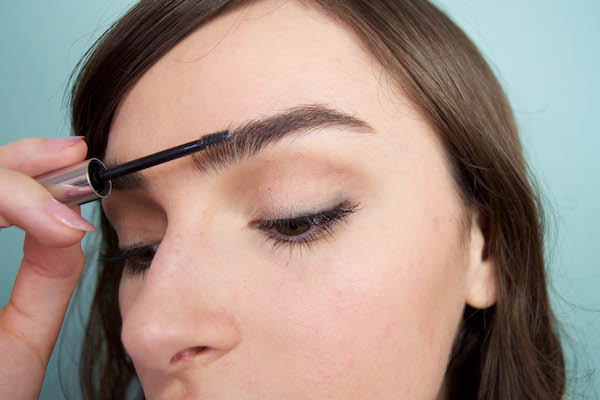 One fun touch that you can always see is Emma wearing her brows brushed up. Not an Instagram brow in sight! To get the same effect we're using Glossier Boy Brow in Black because it will lightly color the brows and set those hairs up.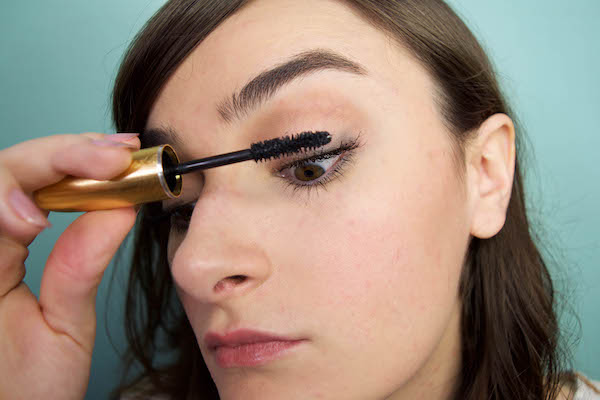 Last thing on the eyes is a whole lot of mascara. We're digging the Grande Mascara right now for a voluminous, thick lashy look.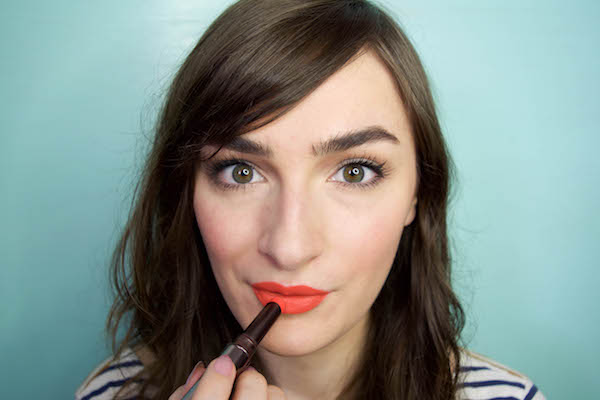 Last thing to finish off the whole look is lipstick! Emma tends to wear warmer toned red lipsticks, although she'll go for the occasional plummy red too. To keep this look nice and fresh (because that's really what this whole look is about) we're opting for the warmer orange toned red.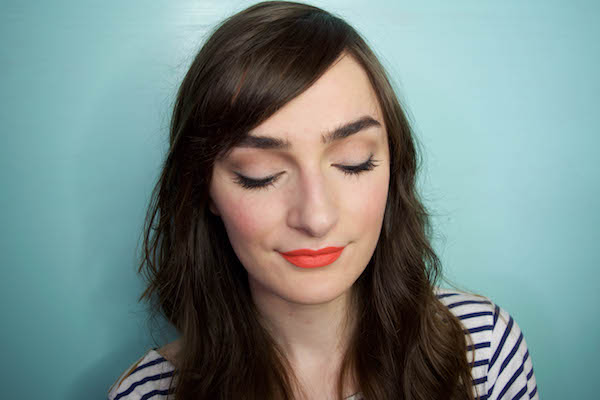 This shade is the Makeup Geek Iconic Lipstick in Quirky and is that perfect mix of orange to make it look and feel comfortable.
Love this article? For more beauty, style, travel, and trending topics check out The Luxury Spot on Facebook. Like us and we'll love you back!