I spent a fair amount of time working out this week (somehow every event I went to was faux surfing or ballet-inspired), so everywhere I went I had to stash my little emergency beauty kit. It's a sort of "get the beauty basics done without getting super dolled up" kit that also easily converts into the "I think I'm staying over my boyfriend's apartment tonight but I'm not sure" kit. Here's what you need: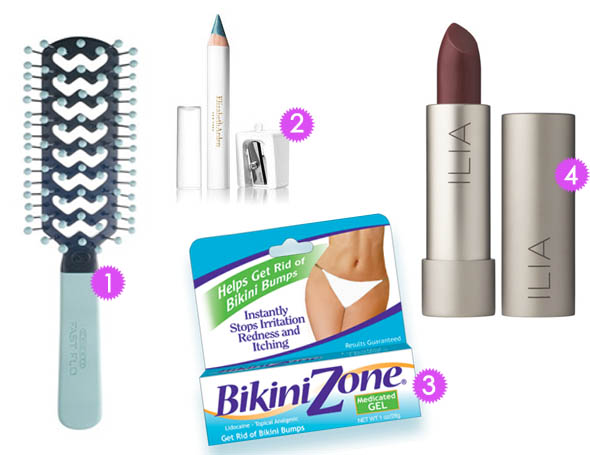 1. A static free-brush. Personally, I love this one by Cricket because it has massage balls at the tip of each bristle that sort of make working through tangles a pleasurable experience after hitting the gym showers. Also, if this is for your overnight kit, you can offer to massage your dude's scalp with it. This is the best sub-$10 investment you can make in your relationship, aside from the bikini cream featured below, I say.
2. A good chubby. I know, all this beauty stuff is getting kinda dirty, but this chubby pencil by Elizabeth Arden is easy to use, smooth, and can be used as a really subtle liner for a little casual daytime pop, or smudged out and thick for a dramatic nighttime eye. Oh, and this funky aqua shade is basically the hottest thing EVER for Spring 2013.
3. Bikini Zone Medicated Gel. Ingrown hair, razor bumps, and all that bikini drama just isn't cute. This medicated gel is strong, fast, effective, and cheap. Also, did you know the active medication, Lidocaine, is a numbing agent? And did you also know that this numbing agent is the #1 ingredient in all those "male performance" creams to help your dude last a little longer? Why buy those when you can solve your crotch problems and your man's all at once. BAM.
4. A good, long lasting lipstick in a deep shade. I happen to love this one by ILIA. It's a deep wine shade that you can dab on gently for a kind of bee-stung look, or layered intensely for a dramatic and sexy night lip. And it's hydrating, long-lasting, and free of that nasty lipstick stink that so many tubes have.