Sheer Minerals may be one of the may mineral makeup lines out there on the market, but our testing has proven it to be one of the best. TLS's Steph tried it out, and after a mix of emotions in my mineral makeup experiences, i just had to try it out for myself, in my own shade. My emotions are now calm, cool, collected & confidently loving this kit.  Only $30 will get you their full shebang, giving you enough to supply yourself with that 'I'm effortlessly beautiful and don't need any makeup' look in a cohesive kit. Perfection for traveling, enhancing your tan after a day on the beach, no thinking needed packing & to throw in to your bag for touch ups after work.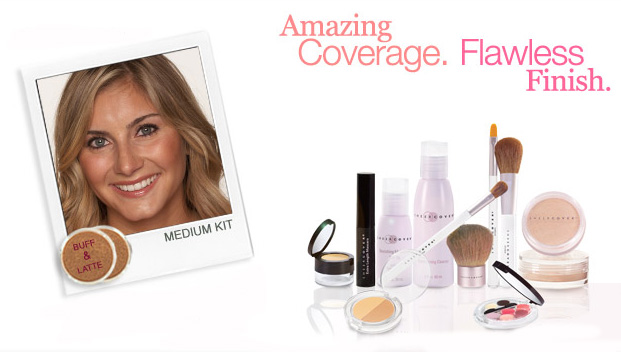 With 4 shade selections, each kit comes with a mineral foundation duo with SPF 15  & a concealer duo for your mixing and matching, flawless skin pleasure. And that's not all!  For even more flawless skin pleasure, you'll get to play with the Sheer Color Compact,  to enhance your look with cream eyeliner, highlighter & lip glosses, the Pocket Duo to help contain your perfectly mixed  concealers & foundations, a moisturizer with oh-so-important SPF 15, a gentle and conditioning cleanser that worked my pores into a squeaky clean frenzy of shrinkage. Lip, kabuki, eye shadow, eyeliner & blush brushes are all designed specially to bring your look together with ease. To top off the look, you can choose between the black or brown Extra Length mascara for one of the least clumpy & smudge threatening finishes I've experienced from a mascara.
Bonus items, that aren't really bonus at all but come with each and every kit, include the Tips & Tricks DVD for you and your lady friends to watch & take notes on how it's done professionally, and the Sheer Cover shade match guarantee. Sheer Cover will gladly, at NO cost, send you your correct shade, if your original choice isn't glamming you to your potential. One of those trial and error miracles I hear everyone talking about.
All for $29.95?! Your eyes aren't deceiving you. that is a 2, and a 9, and a 9, and a 5. With a $ in front of it. For all that.
Find out more on SheerCover.com