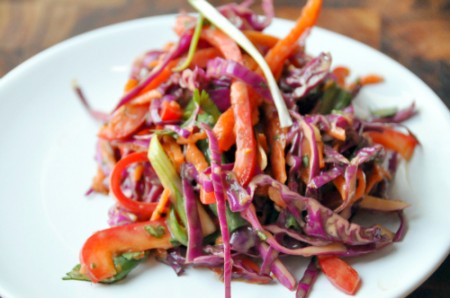 I love regular slaw, but this asian twist on a diner classic looks mighty tasty. Image and recipe via Kitchen Thyme.
Ingredients
3 tablespoons of rice vinegar
3 tablespoons of vegetable oil
3 tablespoons of chunky peanut butter
2 tablespoons of soy sauce
2 tablespoons of (packed) golden brown sugar
1 tablespoon of minced garlic
3 cups of thinly sliced red cabbage
1 large red or yellow bell pepper, cut into matchstick-size strips
2 medium carrots, grated
6 large green onions, cut into matchstick-size strips
1/4 cup of chopped fresh cilantro
Directions
Whisk first six ingredients in small bowl to blend.
Combine remaining ingredients in large bowl. Add dressing and toss to coat.