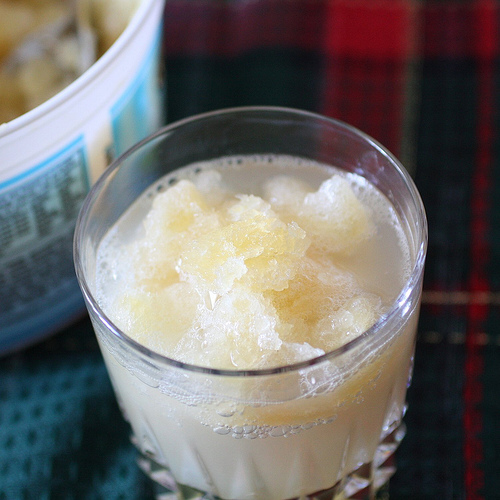 THIS foodie blogger isn't much for the drink – but is able to down a glass of this Brandy Slush no problem.  I might up the ante a bit, in the midst of a boozy brunch, or girls night in which talks of your first (and last) date with that dude from OK Cupid may arise.  This slushy slurpie is a stellar idea for basically ANY occasion.
Brandy Slush
2 cups sugar
9 cups water
2 black tea bags
12 ounce can frozen orange juice concentrate, thawed
12 ounce can frozen lemonade, thawed
2 cups brandy
Bring sugar and water to a boil; stir until sugar is melted. Add tea bags and steep until cooled.
Discard tea bags and add orange juice concentrate, lemonade, and brandy. Transfer to large container (empty gallon-size ice cream containers work great) and freeze. Stir after 12 hours, then again 12 hours later.
Scoop slush into a glass and fill with citrus soda* (Sierra Mist, Squirt, etc.).