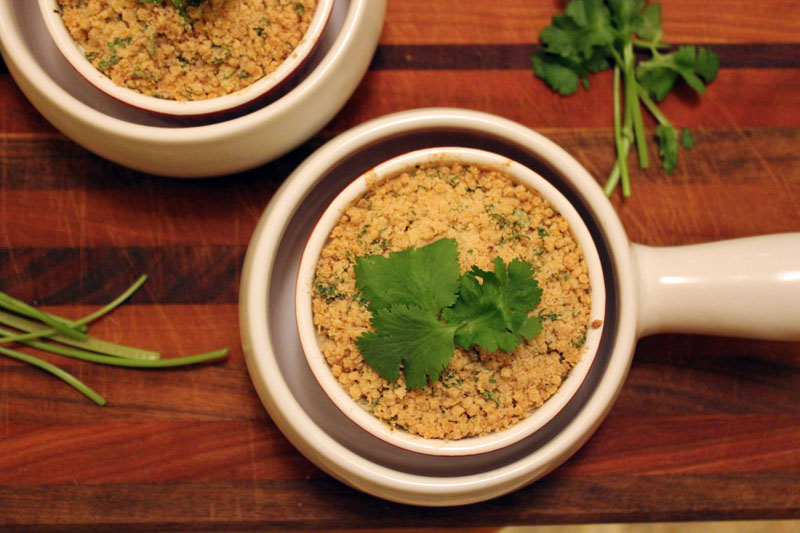 This recipe covers every need I could ever have in a savory appetizer.  A little crunch, a little sweetness and cheese.
Butter-less Butternut Squash Crumble (Savory)
Image & recipe via From The Little Yellow Kitchen (adapted from: Cannelle et Vanille)
serves 6-8
Quinoa Crumble Topping
¾  cup whole wheat flour
¾  cup cooked quinoa, room temperature
2 Tbsp grated parmesan cheese
3 Tbsp parsley, finely chopped
1/2 tsp black pepper
5 Tbsp olive oil
Butternut Squash Filling
2 Tbsp olive oil
1 large shallot, thinly sliced
1 small onion, halved and sliced
2 cloves garlic, minced
4 cups butternut squash, cubed
3 medium carrots, chopped
2 Tbsp finely chopped parsley
1 ½ tsp dried sage leaves
¼ tsp dried thyme
1/2 tsp salt
1/2 tsp black pepper
3/4 tsp ground coriander
1/8 tsp ground nutmeg (about a pinch)
1 large Gala apple, peeled and diced
3/4 cup low-sodium chicken stock
¼ cup white wine
2 ounces light feta cheese, crumbled
Directions:
While oven is preheating oven to 400 F, cook the quinoa in chicken broth (2 to 1 ration of broth to quinoa).
In a medium bowl, add all of the "crumble topping" ingredients, except for the olive oil; mix together with your hand. Add olive oil and continue mixing with your hand until texture is crumbly but somewhat sandy-like. Set aside in the fridge, while preparing the filling.
In a large pan, heat the olive oil and add the garlic; after a minute add the shallot and onion. Cook for 7-8 minutes, over low heat, stirring occasionally. Add the butternut squash, carrot, parsley, sage, salt, pepper, coriander, and thyme and cook over medium heat for about 5 minutes, stirring occasionally. Add the chicken broth and white wine simmer over medium-low heat for 10 minutes, adding the apple pieces in the last 4-5 minutes. Add the crumbled feta and stir a few times to distribute.
In a greased baking dish, transfer the filling from the pan and top with the crumble. Or, if you are making individual servings, fill ramekins about 3/4 to the pack on the topping.
For a family-style dish, bake for 40 minutes. For individual servings, place ramekins on a baking sheet and bake for 20-25 minutes.