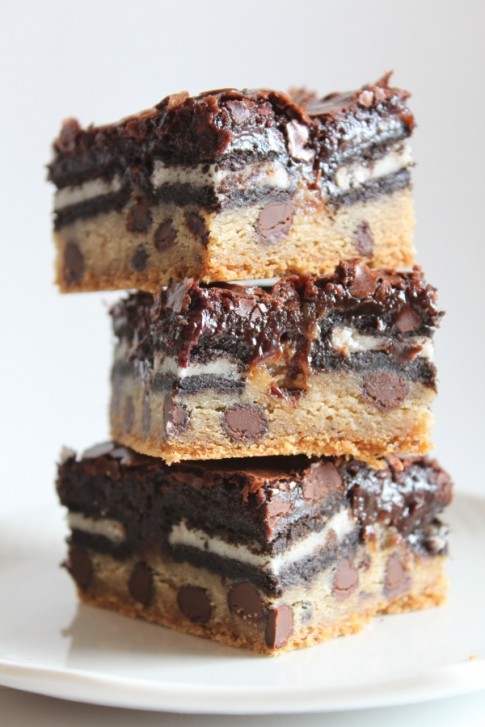 Oh. My. God. Can you believe these bars? It's all my favorite cookies rolled into one. I feel like I'm already getting a sugar rush just by looking at the screen. Image and recipe via Betcha Can't Eat Just One.
Ingreditents
1 cup unsalted butter, room temp
1 cup granulated sugar
3/4 cup brown sugar
2 eggs
1 tbsp vanilla extract
2 1/2 cups flour
1 tsp baking soda
1 tsp salt
2 cups chocolate chips
1 package of oreo cookies (she used double stuffed, I opted for the "diet" version and used regular )
1 package of brownie mix (to be prepared as directed on the box) I used Ghiradelli
dulce de leche (totally optional, I threw it in because it was in my fridge and I figured this recipe could use a bit more sugar?!?)
Description
Preheat the oven to 350 and line a 9X13″ pan with parchment paper
Cream the butter and sugar until light and fluffy.  Add eggs followed by vanilla and mix well.
Add the flour, baking soda and salt and continue to beat until well combined.  Fold in the chocolate chips.
Press the cookie dough evenly into the pan.
Now place the oreos on top of the cookie dough.  Surprisingly enough, there are just enough oreos to top the whole thing!
Dollop the dulce du leche on top of the oreos.
Prepare brownie batter as directed (I didn't even wash out my mixer bowl…just scrape the cookie dough clean and move on!)
Pour brownie batter on top and smooth it around with a spatula.
Bake for 40-50 minutes.  They should look slightly under baked.  The edges will likely puff up and dry out a bit but you can trim them off afterwards and still have way more than enough gooey chocolatey squares to go around!  Some of the comments in this post suggest that 40 minutes is too long to bake, so it's recommended to start peeking in on them after about 30 minutes. 
For a hugely over indulgent decadent treat, top with ice cream and hot fudge.  (Then eat nothing but green vegetables for a full 24 hours!)