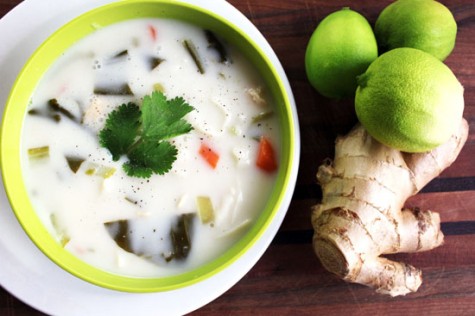 Tuesday Soup Day is back! Today's soup comes via From The Little Yellow Kitchen. Enjoy!
Ingredients:
2 packages Tofu Shirataki noodles, fettuccini-size, prepared according to package
7 cups low-sodium chicken broth
2 cans light coconut milk
2-inch piece fresh ginger, peeled and cut into thin rounds
3 baby bok choi, white parts sliced thinly, greens roughly chopped
4 medium carrots, peeled and cut on the diagonal into ½-inch pieces
¼ cup chopped green onions
1 lb. chicken breast, cut into thin slices
12 Tbsp fresh lime juice (about 6 limes)
4 Tbsp fish sauce
4 tsps brown sugar
1 jalapeno, seeded and thinly sliced
¾ cup fresh cilantro leaves, pulled off the stem, plus more chopped for garnish
black pepper, for garnish to taste
Directions:
Drain and rinse Tofu Shirataki Noodles; set aside.
In a large pot (dutch oven), bring the broth and ginger pieces to a boil over high heat. When boiling, reduce to medium heat and cover to let simmer. After 5 minutes, add the bok choi and carrots, and continue to simmer for 5 minutes more. Then add coconut milk and return to a simmer. After a few more minutes, add the green onions, jalpeno, fish sauce, brown sugar, and lime juice; stir and let simmer for 2 minutes. Add the chicken and noodles and let simmer for 3 minutes. Add the cilantro and cook for another minute to incorporate the whole cilantro leaves into the soup. Dish up and garnish with cilantro and a dash of black pepper.