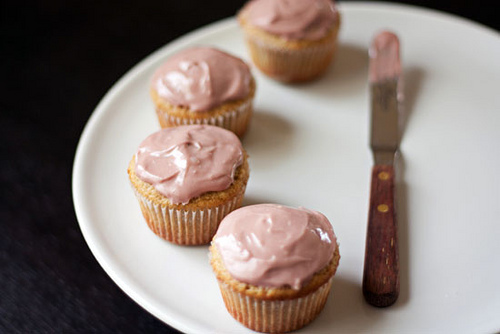 If you're going on a health kick for your beach bod quest, don't skimp on giving yourself a treat at the end of the week for all of your hard, spandex clad work. Bombing it with a huge piece of chocolate cake with brownies & twinkies on top mayyy be a little overboard (even in moderation), so satisfy your sweet tooth with something like pomegranate-y & delicious.
Healthy Almond Cupcakes with Pomegranate Frosting
Yield: 10 cupcakes
Recipe from Tessa of Handle the Heat
1/2 cup all-purpose flour
1/2 cup white whole-wheat flour (King Arthur)
1/2 teaspoon baking powder
1/4 teaspoon baking soda
pinch of salt
1/3 cup granulated sugar
1/4 cup butter, softened
1/2 teaspoon almond extract
2 large eggs
2/3 cup unsweetened applesauce
Preheat oven to 350 F. Line 10 muffin cups with liners.
In a small bowl, whisk together the flour, baking powder, baking soda, and salt. Set aside.
In a stand mixer or with a hand held electric mixer and a large bowl, beat together the sugar, butter, vanilla, and almond of high speech for about 2 minutes, or until well mixed.
Add the eggs, one at a time, until incorporated. Now add the flour mixture alternately with the applesauce, beating after each addition until just combined, scraping down the sides as needed.
Pour batter into prepared muffin tin until each cup is 3/4 full and place in oven. Bake for 20-25 minutes or until lightly browned on top and a toothpick poked into the middle of the cupcake comes out clean. Let cool completely on rack before frosting.
Pomegranate Frosting
3 ounces 1/3 less fat cream cheese (Neufchatel)
1/4 cup confectioners sugar
1 tablespoon pomegranate molasses (recipe below)
Beat the cream cheese and sugar with an electric hand mixer until well mixed and fluffy. Add the pomegranate molasses in and beat until incorporated. Using a small offset spatula, ice the cupcakes. Icing will be somewhat runny initially. Once the iced cupcakes are stored in the refrigerator it should set.
Pomegranate Molasses
2 cups POM Wonderful pomegranate juice
3 tablespoons sugar
splash of fresh lemon juice
Combine ingredients in a small saucepan set over medium heat. Bring liquid to a boil, then reduce heat to a gentle simmer. Simmer for about 40-50 minutes until the mixture has a thick consistency. Let cool, the use or store in the refrigerator.