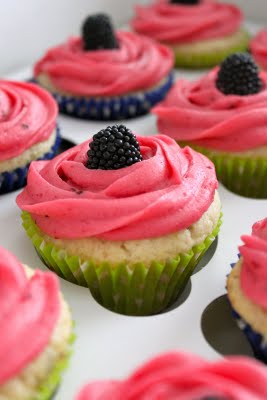 One of the best things about these cupcakes (aside from the taste, which is clearly amazing) is the fact that there is zero food coloring involved. The vibrant color of the icing comes courtesy of nature's very own blackberries. Images and recipe via Baked Perfection.
For the cupcakes(makes 30):
1 cup butter, softened
2 cups sugar
3 eggs
2 teaspoon vanilla extract
4 tablespoons key lime juice
zest of two limes
3 1/2 cups all-purpose flour
1 teaspoon baking soda
1/2 teaspoon baking powder
1/2 teaspoon salt
2 cups sour cream
Preheat oven to 350 degrees Fahrenheit. Grease or paper-line 30 baking cups. In a medium bowl combine the flour, baking soda, baking powder, and salt. In a separate mixing bowl, cream the butter and sugar. Beat in the eggs, one at a time. Add the vanilla, key lime juice and lime zest; mix well. Add the flour mixture to creamed mixture alternately with sour cream (batter will be thick). Fill muffin cups with 1/4 cup of batter. Bake at 350 degrees F for 20-25 minutes or until a toothpick inserted near the center comes out clean. Cool completely and frost as desired.
For the blackberry filling:
1 32oz container frozen blackberries
3 tablespoons sugar
Juice of one lemon
3 tablespoons cornstarch
pinch of salt
Place blackberries in a small bowl and sprinkle with sugar, let thaw. Drain blackberries, reserving liquid. Squish the blackberries and push through a fine mesh sieve to remove the seeds, set aside. Add enough water to the blackberry liquid to equal 1 cup. In a large saucepan, combine the blackberry liquid, lemon juice, cornstarch, and salt. Heat and stir until the mixture boils and thickens. Cool completely.  Refrigerate until ready to use.
For the blackberry buttercream:
2 sticks butter, softened
1 tsp vanilla extract
1/3 cup blackberry filling (seedless blackberry jam or preserves can be substituted)
pinch of salt
6 cups powdered sugar
2-3 tablespoons milk
Beat butter and vanilla until creamy. Mix in blackberry filling and salt. Add powdered sugar 1 cup at a time, beating until combined. Add milk 1 tablespoon at a time until you reach desired consistency.