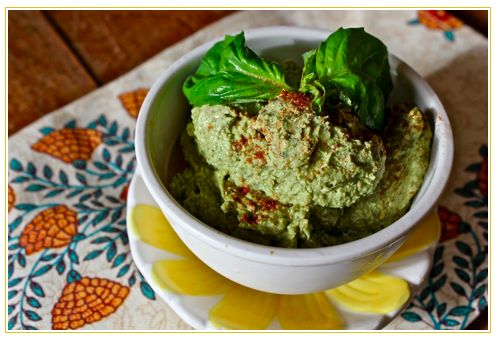 It's the savory version of this killer Almond Butter, and it's a completely healthy way to skip the mayo while getting healthy oils and a burst of flavor on your sandwich or as a dip.
Lemon-Almond Pesto Spread
Recipe via From The Little Yellow Kitchen
Ingredients:
1 1/2 cups whole almonds, peeled and lightly toasted
2 cups packed fresh basil leaves
3 garlic cloves, peeled and chopped
4 Tbsp freshly squeezed lemon juice
2 tsp finely grated lemon zest
cup grated parmesan cheese
1/4 cup extra-virgin olive oil, more if needed
1/3 grapeseed oil
1/2 tsp salt
1 Tbsp nonfat greek yogurt
tsp pepper
2-4 Tbsp water, depending on desired texture
cup cannellini beans, drained
Directions:
Toast the almonds for about 1-2 minutes, shuffling them around often to be sure they don't burn. Lay them on the cutting board to cool, then put them into the food processor and grind to a meal.
Add the basil, garlic, lemon juice, and lemon zest, parmesan cheese, and pulse several times to combine. Then add in the yogurt, cannellini beans, water (use less, and add more if need) salt and pepper and blend while streaming in the olive oil and grapeseed oil. Keep blending until the texture is smooth.
Spread on your favorite sandwich, add to pasta or eat as a dip.
Notes
This yields about 2 cups, so to store the extra, you can put it in the freezer and save for a rainy day, or keep it in the fridge for up to 2-3 weeks, just be sure to place in an air tight container and cover with a thin layer of olive oil.