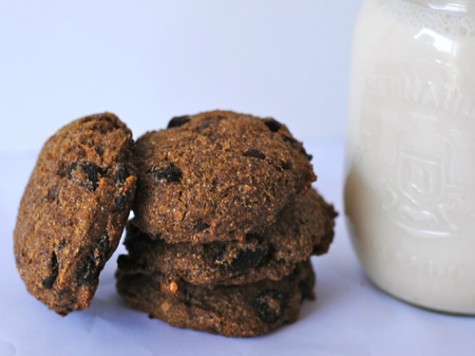 I don't know about you, but I think this Maggie chick is on to something. Cookies for breakfast? Yes, please.
Ingredients
2/3 cup coconut oil, liquefied
½ heaping cup unsweetened apple sauce
1 cup coconut sugar
½ teaspoon powdered stevia
2 tablespoons ground chia combined with ½ cup water
2 teaspoons vanilla
2 cups buckwheat flour
¼ cup arrowroot flour
½ teaspoon sea salt
1 teaspoon baking soda
3 teaspoons ground cinnamon
½ cup quinoa flakes
1 cup raisins
1 cup chocolate chips (or unsweetened carob chips)
Directions
Preheat oven to 350 degrees and line a baking sheet with parchment paper. Whisk together the oil, applesauce, sugar, chia mixture, and vanilla. In a separate bowl, mix together the buckwheat and arrowroot flours, sea salt, baking soda, cinnamon and quinoa flakes. Add the dry ingredients to the wet ingredients and stir just to combine. Stir in raisins and chocolate chips or carob chips. Scoop batter with a small ice cream scoop onto the parchment lined baking sheets. Bake for 12-15 minutes at 350 degrees. Cool for five minutes, then transfer to wire baking racks.
Image and recipe via.