Now this is a good way to get your antioxidants. Pomegranate mousse filling takes these homemade donuts up several notches. I'd say the health benefits of pomegranate cancel out that whole donut aspect. Recipe and image via Heather Christo.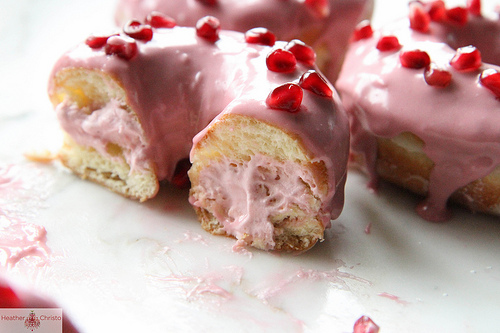 For the donuts:
¼ cup water (that is about 110 degrees)
1 ½ cups whole milk
½ cup sugar
1 tsp salt
2 eggs, at room temperature
1/3 cup Crisco
2 ½ cups AP flour
3 cups cake flour
For the mousse:
-1 cup pomegranate juice
-3 eggs
-1 cup white sugar
-4 tablespoons room temperature butter cut into small pieces
-1 cup heavy cream, chilled
For the Glaze:
-1 ½ cups powdered sugar
-3-4 Tbs pomegranate juice
-3 Tbs heavy cream
-pinch of salt
-1 cup fresh pomegranate seeds
For preparation instructions, click
here
.