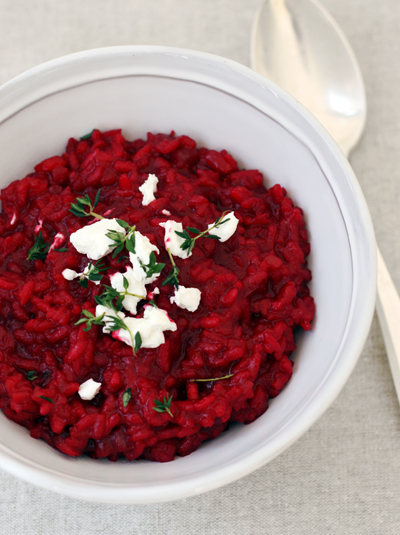 Cold, wintry days call for warm, nourishing comfort food, and when it comes to comfort food, risotto takes the cake. This red beet version looks so festive with its vibrant red hue and fresh green garnish, it could make for the perfect holiday meal or side dish! Recipe and image via The Jewels of NY.
Ingredients:
1/4 cup (1/2 stick) unsalted butter
1 cup white onion, chopped
1 cup arborio rice
3 1/2 cups low-sodium chicken broth or vegetable broth
2 (2 1/2- to 3-inch-diameter) beets, cooked and pureed
1 tablespoon balsamic vinegar
salt and pepper to taste
1 (5 1/2-ounce) package chilled soft fresh goat cheese, coarsely crumbled
thyme leaves, for finishing
For preparation directions, click here.