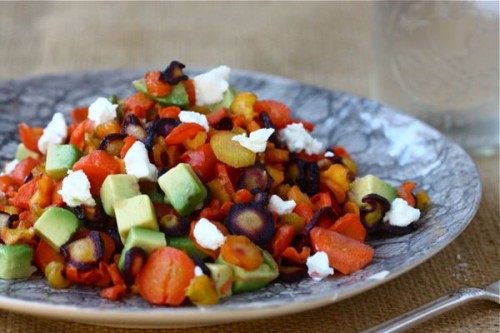 Eat a lot of fattening and delicious meals over the weekend? Make up for it by having this tasty and low calorie salad for dinner tonight. You'll feel less guilty about that late night pizza you shoved in your drunk face at about 3am on Saturday. IMage and recipe via A Cozy Kitchen.
Ingredients
Salad:
15 carrots (peeled, trimmed and thinly sliced)
1 avocado, cubed
2 ounces goat cheese, crumbled
Dressing:
1 shallot, minced
2 tangelo oranges
1 meyer lemon
1/3 cup extra virgin olive oil
1/2 teaspoon ground cumin
Salt
Ground pepper
Directions
Preheat oven to 375F. Evenly divide sliced carrots between two lined (important!) baking sheets and place in oven for 15 minutes. Remove carrots and let cool on baking sheets. You'll find them slightly rubbery. This is good. You don't want a carrot chip salad, ya know? Meanwhile, make the dressing. Place the minced shallots in a small bowl. Squeeze the juice from the oranges and lemon, being sure to catch any seeds. Whisk in extra virgin olive oil. Add cumin and add salt and pepper to taste. To assemble the salad, add the carrots, cubed avocado to a medium bowl. Pour half of the dressing over top and gently toss. Add more and more dressing until it's to the point of your liking. Divide salad between two plates and crumble goat cheese on top. BOOM! Eat the rainbow.