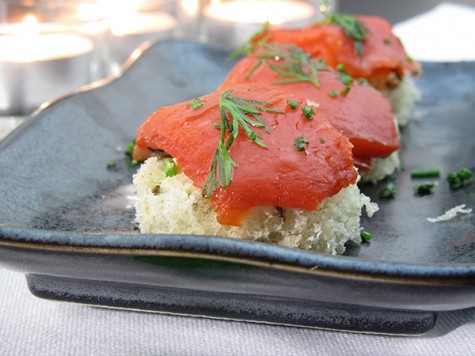 How perfect is this treat on a nice, sunny Mother's Day? Make it for your mother right now. Image and recipe via The Tomato Tart.
Ingredients
1 lb wild smoked salmon, I love the smoked sockeye from Trader Joe's
1 loaf good quality rye bread
1 package of good deli cream cheese (Gina Marie and Dianna Supreme are two brands)
2 bunch of chives
1 bunch of dill
1 teaspoon of peppercorns
½ to 1 cup of olive oil
½ lemon-thinly sliced
Directions
Soak separated salmon slices in olive oil overnight with peppercorns, ½ of dill, ½ of chives, and the lemon slices. You can skip this step, but if you have time, it's a nice touch.
On the day of serving,, bring cream cheese to room temperature
Cut bread into rounds using a 1 inch ring mold.
Top each round of bread with a little bit of cream cheese, a slice of salmon, and a sprig of dill
Finally sprinkle the entire plate with fresh chopped chives.