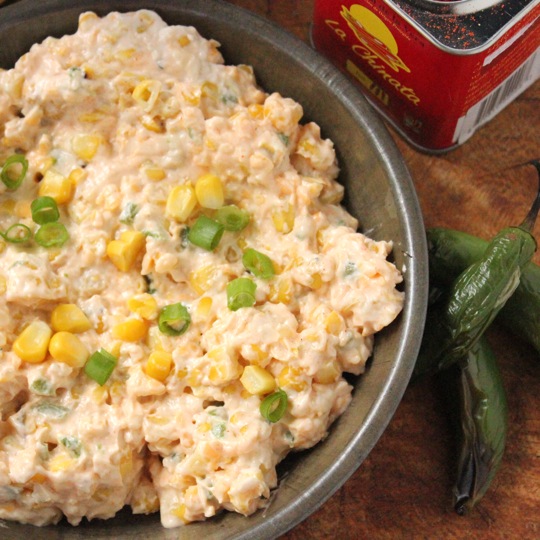 It's blazing hot here in NYC, but that shouldn't stop you from indulging in a little spice!  Test this recipe out on your friends for your next BBQ, whether you opt for the fresh sweet corn, or canned, and it'll be a sure hit con tortilla chips.
Smoky Corn and Jalapeno Dip
Yields 2 cups (about 8 servings)
Recipe from TheKitchn.com

2 large ears of corn, husks on
2 jalapeno peppers
1/2 cup mayonnaise
1/2 cup sour cream
1/2 cup grated cheddar cheese
1/2 cup grated pepper jack cheese
1/4 teaspoon smoked paprika
1/4 teaspoon kosher salt, or to taste
Set grill to medium high heat. Grill the corn with the husks on for 20 minutes, rotating every 5 minutes, until outsides are lightly charred. In the last 5 minutes, add the jalapeno peppers and cook until lightly blackened.
Remove the husks and silks from the corn and cut the kernels off of the cob. Seed and mince the jalapeno peppers, reserving seeds if more heat is desired.
In a large bowl, mix corn, jalapeno, mayonnaise, sour cream, cheddar, and pepper jack until well combined. Add smoked paprika and kosher salt. Taste for seasoning and adjust if desired.
Chill until ready to use. Serve with classic potato chips (my preference) or tortilla chips.