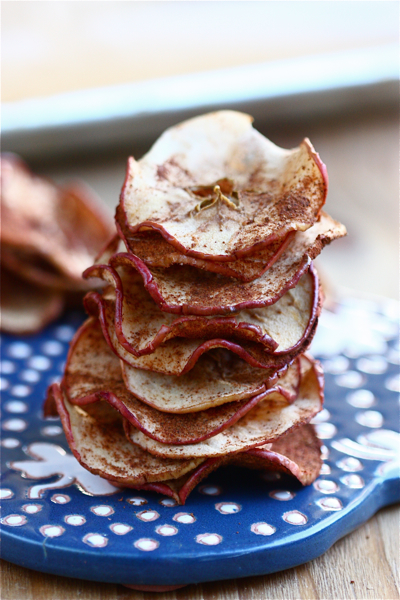 Do you want to eat all of these in 1 sitting? Because I DO.
Spiced Apple Chips
Recipe & photo via A Cozy Kitchen
1 1/2 tablespoon of cinnamon
1/4 teaspoon cardamon
1/4 teaspoon nutmeg
1/4 teaspoon kosher salt
3 Gala Apples (other flavorful varieties would be great, too!)
Preheat oven to 200F. Line two baking sheets with parchment.
In a medium bowl, mix together spices and salt.
Crosswise, cut off both ends of each of the apples. There's no need to core the apples. Using a mandoline (or sharp knife), slice the apples as thin as possible. (Approximately 1/16″ inch). Remove and discard any seeds from the apple slices. Add the apple slices to the bowl and toss with the spice mixture.
Transfer the apple slices to the baking sheets, in a single layer, being sure they do not overlap. Bake in the oven for about 30 minutes, then flip them over. Bake for another 30-45 minutes, or until crispy in appearance. Total baking time: 1 hour and 15 minutes.
They'll become crispier after they cool.
Yields about 50 chips.